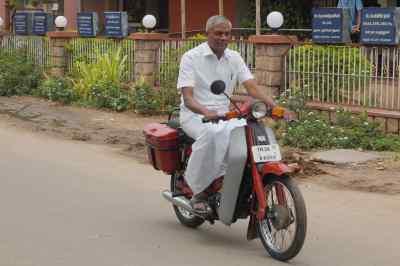 Madurai's two-time sitting Member of Parliament
P Mohan
is known for his simplicity. Whether he is being accessible to his voters or roaming across town on his moped, he has a down-to-earth image. In what is probably his toughest-ever election, the Communist Party of India-Marxist veteran is up against M K Azhagiri, Tamil Nadu Chief Minister M Karunanidhi's elder son.
After being hospitalised for an intestinal problem mid-way while campaigning, Mohan returned to the constituency only a day before voting. In an interview to rediff.com's Krishnakumar P, he speaks about what it is like contesting against the Dravida Munnetra Kazhagam strongman, the work he has done for Madurai, and the Eelam situation.
How are you? How was the surgery?
I am fine now. Mentally, I have the confidence that I will win. Physically, I am somewhat better now.
When you fell ill, it is said that All India Anna Dravida Munnetra Kazhagam chief J Jayalalithaa had told her cadres to work as hard as they would if she herself were contesting here...
Even now, the AIADMK district secretary called to convey her regards. She has said that his (Mohan's) health is important and it is not really necessary that he has to come out and campaign. She said her party will take care of the campaigning. It is very nice to hear such words from an alliance partner.
And more important, you had your own national leaders, Sitaram Yechury and Prakash Karat, coming here for you.
You know how I see the timing of my illness? If I had gone out and campaigned, it would have been one candidate. Now it is so many candidates -- all of them tall and famous leaders. I am really glad.
Another thing is that it is not like I am not familiar to the people. I have spent 40 years in public life. I have been a representative for 10 years. So, I need not worry about campaigning.
But a candidate who has never met the people is the one who needs to go to the people.
But nonetheless, wouldn't being away from the public eye be a disadvantage for you?
I had finished (campaigning in) more than 70 per cent of the constituency before I fell ill. There are only two regions left and it so happens that they are urban areas inside the city.
How and when did you hear that M K Azhagiri would be the candidate?
They have been saying it themselves from January. His supporters have given him a lot of responsibilities. They have been calling him the chief minister of the southern districts, and an MP even before he decided to contest. There is no cap on creativity and limits to how much you can praise a person.
But this is the same person who worked for you, alongside you in the past few years.
You cannot call working for the alliance as working for me. These are two different things.
Still, he was the one who stood by you and canvassed and worked to make you win in the last election.
That is for an alliance on the basis of policy and principle. Even during the by-election, our cadre worked for them in many constituencies. He spoke to me personally and I told him we will work for the alliance.
What are your achievements in the 10 years that you have been an MP?
I was instrumental in the building of a new terminal and extending the runway in Madurai airport. I have ensured that Madurai gets a regional passport office. I have brought a second Kendriya Vidyalaya here and the third will come soon. The foundation stone for an AIIMS campus has been laid.
It should also not be forgotten that I was the first MP to raise the issue of making Tamil a classical language back in 1999. Over the years, every paisa of the MP's development fund (Rs 20 crore for 10 years) has been spent on development. There have been no malpractice. It has been spent judiciously.
But these are not things that reach large sections of the people.
See, you have to understand Madurai properly. It is a region that has been neglected, in terms of industrialisation and education, since Independence.
Basic infrastructure is an important thing. That is what the airport and the railway connectivity will bring. It will aid in the overall development of the state. Now that I have set the ball rolling, Madurai will automatically grow.
What about reports about the DMK distributing money?
Using money and muscle power for electoral gains and to abuse power is in the DMK gene. This is the same bunch of people who brought such a bad name to Tirumanglam. If they are willing to spend Rs 50 crore (Rs 500 million), it is definitely not to serve the people. It is to loot more.
Your prime ally the AIADMK is saying it will help create a separate Tamil Eelam in Sri Lanka.
That is their party policy. We have nothing to do with it. Even when it comes to the DMK, the Congress has announced that it does not agree with the DMK's policy.
But what is your stand?
It is a very grave problem. Civilians are being brutally killed. They must be protected.
They have to get back their rights. The Indian government could have solved this problem at an early stage. If the government had spent one tenth of the time it spent on negotiating with the United States on the nuclear deal, the war could have been stopped seven months ago.
Finally, it is said in some quarters that you have scaled down your intensity under some pressure...
(Getting emotional) It is atrocious. Can we say then that Karunanidhi got himself hospitalised after taking money from Jayalalithaa? Leveling this kind of charge against me is something that even a rival like the chief minister will not believe.