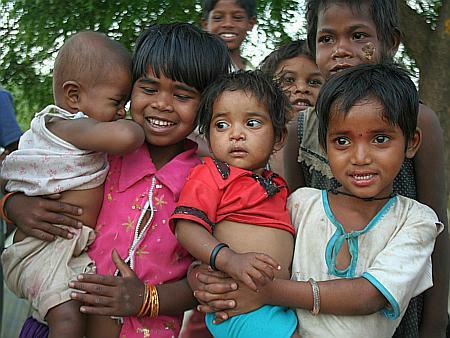 A Ganesh Nadar and photographer Uday Kuckian hit the road in Madhya Pradesh.
Ankeda, a village located a few kilometres from the world heritage site of Sanchi in Madhya Pradesh's Rayson district, survives on one hand pump.

Situated on the busy Vidisha-Bhopal road, the 400-odd residents of this hamlet wait for the ground water to be replenished when the hand pump goes dry every three to four hours.
Adding to their woes is the shortage of electricity. The villagers live without power all day (power resumes at 5 pm every day, but goes off again between 8 pm and 11 pm).

The primary school in Ankeda teaches students till Class 5. Not many in the village take the school's presence seriously. "There are four teachers here. "One sir and three madams," says Anil, a Class 5 student, with an impish grin.

Just as Anil completes his statement, a thin bearded man gets off his cycle and tells us, "Babu, the school is a joke. My daughter is in Standard 5 in that wretched school. She still does not know how to write my name. Don't know what they taught her for five years."
Most children do not go to school. "They like to play and just run away from school. Who is there to control them? The teachers don't care. The mothers don't care either as they too are not educated," says Sunil.
Nobody comes here asking for votes, the villagers say, most of whom work at the nearby quarry. On polling day, they vote for the party they like. "A few get money to vote, the rest go to work or may vote depending on their mood that day," says a young man in rustic English.

A wizened old man tells us, "I vote for the Congress because I respect Mahatma Gandhi, Pandit Nehru and Lal Bahadur Shastri."

When we tell him the state is now ruled by the Bharatiya Janata Party and all the stalwarts he mentioned are long gone, he shrugs, "So what? I am still here, I have not gone, I will respect them till I die." Pointing at his co-villagers with a toothless grin, he adds, "These people won't."
Just about then, a young man on his motorcycle comes roaring by. Seeing new faces in his village, he stops. After noting the banner on our car, he quips, "Have they discovered a soap that works without water? That would solve my village's problem."
We ask him about the situation in his village. "What can I tell you?" he shrugs. "There is no unity here. If I want to go to the collector to complain, only two people will come with me. The rest won't. They will want to know: 'Has he become our new leader? Is he better than us? Who is he to make decisions?' There are village elders to look after us. And you have met our eldest, I see. He still talks about the freedom struggle. He has forgotten everything else after that."

Ankeda connects Madhya Pradesh's capital city to bustling Vidisha. It is one of India's many forgotten villages -- a village where the oldest resident still votes for the Congress because Gandhi was a Mahatma.