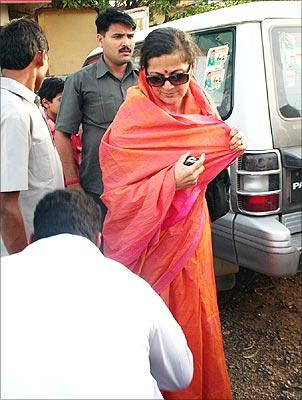 Ever since Union Human Resources Development Minister Arjun Singh's daughter
Veena Singh
decided to contest the Lok Sabha election as an Independent candidate in Sidhi after she and her brother Ajay Singh were denied tickets, every passing day has seen high voltage developments.
Starting with her decision to the ebbs and flows of her father's statements (ranging from 'I am shocked' to 'I am unhappy' to 'But I will campaign for the party') -- the family has left the electorate thoroughly confused and the Congress cadre utterly demoralised.
In a candid conversation, Veena Singh told rediff.com's Krishnakumar P about her decision to contest, her relations with her father and brother, and about her fitness as a candidate.
You mentioned in your speech that you decided to contest because you were offended by the way the party has treated your father.
Not offence. My father was hurt. Hurt that after 52 years of service to the Congress, both children were denied a Congress ticket.
By deciding to contest as an Independent, in a way you have ended up undermining your father's position.
I don't think so.
You also mentioned in your speech that in 1957, he contested as an Independent. Can you describe the circumstances under which it happened?
In 1957, just like now, my father was not able to get a Congress ticket. He wanted to test the waters among the people of the region and contested as an Independent from Majauli and won.
How did you take news that you and your brother were not getting Congress tickets?
I would say I was not surprised. It took me a minute for it to register. Then I started thinking about how I could create a situation where I could go to the people and see whether the people appreciate the work that we have put in as a family for the region.
Why was it not a surprise?
Because it took me just a minute to register what had happened.
What do you think is the reason that a senior leader like your father was treated like this?
See, I don't blame anyone for that. Something was at play or it was just fate and destiny. Now, I have to go to the people and that is what I am doing. I am already in the midst of people and they will decide.
Did you discuss with your father your move to contest?
I have not had even a word of discussion on this issue with anybody. It was a personal decision based on my own conclusion and I apprised (emphasises the word) my parents of my decision.
How did they react?
I have no elders in the family. Both parents of my husband are no more. So in a way not only is my mother the head of my family, she is also the head of both sides of the family. She sees my husband as her own son.
I asked how did she react to your decision to contest as an Independent?
She has always known me to be a determined and committed daughter. Whatever I have done in my life, I have done with a lot of commitment and I have never taken any decision in a hasty manner.
I have never done anything without thinking about the pros and cons. So if I did take this decision, I did it after thinking it through in the very little time I have had.
What did your father say?
I just told him over the phone.
What did he say on the phone?
Nothing. See, it was like this: I called him up and told him of my decision. He didn't say anything. He just said 'I hope you have thought about it.'
He shed tears in an open forum soon after.
I have said this repeatedly to the press when they contacted me from all over. I said it would be better if you ask him. Ask him why he had an emotional breakdown. Is it because of this or because of some other reason? Don't ask me. But an emotion is an emotion and most people can't control it beyond a point.
Have you tired contacting him after that incident?
I have been so busy. I have set a record of sorts in the 12 days that I have been on the road campaigning. I have covered the entire constituency. And my constituency is very large. It takes 7 to 8 hours to go from one end to the other. And the roads are as good as not having any roads at all. So, if I manage to visit all parts of my constituency even once in 10 days, it is a marathon.
Critics say it is your brother (MEM>Ajay Singh, a former minister in the Digvijay Singh government and an MLA now) who nurtured your constituency. They say you have always been in Delhi and even when you visit here, it is to see your in-laws.
I would like to bring this on record. When I passed Class 10 in 1967, I was the only one who was free from studies. At the age of 13 or 14 when my father contested his first by-election from Umaria, I was out there campaigning for him. My association with politics is by blood. I used to meet hundreds of people every day in the summer months. The then maharaja of Veera, Martand Singh, used to love me as a small kid and appreciated my effort at that age.
And having done it from 1967 I have been on every campaign with my father across the country. Especially after his by-pass surgery in 1991, I was not only his nurse, but also took care of every aspect of his campaigns.
I would also like to take you back to 1979, when Indiraji (Gandhi) came to Bhopal. The times were really difficult due to the Emergency. I cooked her a meal when my daughter was 20 days old and very ill. She must have seen some spark in me even at that age, because she called me aside and said when you are done with all your other duties, you must serve the party.
So, what I learnt was by observing and perceiving great leaders. I have been associated with so many political campaigns. I had a lot of chance to interact with Rajiv Gandhi too. Right in the beginning, I saw the charisma in him. To say that I have not nurtured the constituency is putting the facts out of context.
In fact, my mother, me and the entire womenfolk went door to door in the election that happened immediately after the Emergency, and my father won with the best majority in the state.
I campaigned in Churhat (her brother's constituency) in the October (assembly) elections.
How is your relations with your brother now?
You have to understand that we are not in competition with each other.
But he will be here campaigning for the Congress candidate against you?
He is doing his duty and I am doing my sangarsh. These are two different things. We are doing what is expected of each other.
Are you in touch with him?
Whenever he wishes to. I speak to all candidates and I respect all candidates. I don't criticise and analyse other people. I consider everyone in their own domain.
It is said that your father is the last intellectual in the Congress and that it is a shame that he is treated in this manner...
I am too much into his progeny to comment on him. If people say so, there must be some meaning in it.
You don't blame anyone in the Congress for this?
I am not contesting any party. I have nothing against anyone.
Being among the most loyal people to the Gandhi family, you father never became PM or even the President.
Well, that is something you should ask those people who are in a position to make him anything. If it were up to me campaign for him and get anything, I would do everything in my powers to do that. But it is not in my hands.
It was his destiny or may be his health, which was cited as the reason when the question of the Presidency came up. So many things were attributed. It is anybody's guess.
Again, don't you think whatever you have done will undermine his position in the party?
I don't think so, but if it does I would not be shocked.
So you won't take the blame if he is sidelined?
I won't take the blame. I have not done anything to bring down his legacy. In fact, I think if I win I would be proving a point. That I how I look at it and I would like it to be that way.
Image: Veena Singh on the campaign trail in Sidhi. Photograph: Uday Kuckian