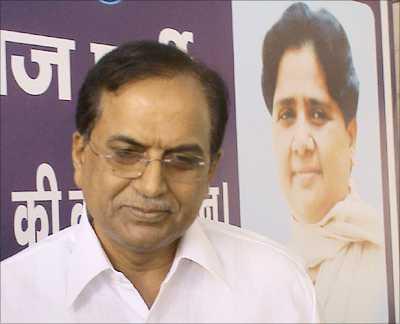 "It is easy to meet God in Uttar Pradesh, but impossible to meet any BSP leader who can talk to the media," quips one journalist in Lucknow.
There is substance to this observation as only two Bahujan Samaj Party leaders are allowed to brief the media. One is its supremo, Chief Minister Mayawati. The other, her right-hand man, Satish Chandra Mishra, a Rajya Sabha member and chairman of the BSP's advisory board.
Mayawati considers journalists as beneath her attention -- it is near impossible to get a one-on-one interview with her even in this age of 24 x 7 news television. Mishra is the only option for a correspondent to get an insider's view of how the BSP works and its election strategies.
Syed Firdaus Ashraf caught up with Mishra at the BSP's mammoth party headquarters in Lucknow.
Barricaded by huge iron gates, the BSP HQ appears like a fortress from outside. Workers are giving finishing touches to the building -- which could be the size of half a fooball field -- as if to host a celebratory occasion soon.
Inside, the marble-decked walls are lined with huge portraits of Dalit icons Dr B R Ambedkar, Jyotiba Phule and the BSP's founder Kanshi Ram.
Mishra is set to leave for a series of party meetings, but agrees to briefly interact with rediff.com. Why is the BSP media unfriendly, we ask.
Mishra's response is laced with sarcasm. "Because we are with the voters. We prefer to be with the people than sit in air-conditioned television studios."
"Look at me, I have lost weight because I run from one place to another, addressing people's problems. I am always under the sun unlike other political people."
"We don't change our looks by applying make-up when we attend rallies," Mishra, who once served as the state's advocate general, continues. "We let our colour of the skin remain the same and don't change even if we look dark. We behave and work just like poor people do. We drink sugarcane juice or whatever our workers and supporters bring to us. We have no issues with that. This is how we interact with the common people."
Mayawati too? "Yes, she has been doing this for the last 30 years and people know that."
Mishra's rise in politics has been dramatic. As advocate general, he won Mayawati's trust when he defended her in the Taj Corridor scam. She quickly recruited him as one of her political advisors. Many give him credit for Mayawati's successful social engineering -- Brahmin-Dalit unity -- which helped the BSP storm to power in the state in May 2007.
But emerging reports from UP say that caste honeymoon is over. Brahmins, observers believe, are drifting away from the BSP, disillusioned by the Mayawati government's policies.
Mishra, the BSP's most prominent Brahmin face, quickly denies any such rift.
"Such talk is completely untrue," he insists. "Our unity stands and you will find that out after the results. The BSP has 45 Brahmin MLAs. Don't you think this number is huge? The news of a Brahmin-Dalit split is false."
"Mulayam Singh has been exposed after he joined hands with Kalyan Singh," he adds, discussing the Samajwadi Party leader's decision to form an alliance with the Bharatiya Janata Party renegade Kalyan Singh under whose chief ministership the Babri Masjid was demolished in December 1992.
"Now even Muslims will vote for the BSP. Our party talks about the rights of every community and you will see that this election."
What about the BJP and Congress? "It is the BSP versus all other parties in Uttar Pradesh. The BSP is going it alone in every seat. Behenji (as Mayawati is known in the BSP)is the most popular leader in Uttar Pradesh today. She talks about the welfare of people and thinks about the 90 percent of the people who are below the poverty line."
"We are not like other capitalist parties in the country who bother about the ups and downs of the Sensex. They only think and worry how rich are getting poorer and not about how poor people can get rich. Our party thinks about that class of people about whom no political party in India is bothered."
When we pointed out that Congress leaders blame the BSP for harassing their workers in the state, Mishra counters, "It is the other way round. Congress leader Digvijay Singh told a meeting that Mayawati should know that the CBI (Central Bureau of Investigation) is in its hands so she should be beware of the Congress. Is this the way Congress leaders should talk? They have made the CBI their private agency to settle political scores."
"Digvijay lost badly in Madhya Pradesh and now he has come here to test the waters. People all over India have rejected the Congress. It is the common people who have been harassed by the Congress party. The Congress will lose its deposit in many seats," Mishra adds.
Then, he looks at his watch and says, "I have to leave. I am already late."
He walks out swiftly, refusing to take any more questions. In a flash, the iron gates -- painted in blue -- close. Mishra moves to the blistering sun -- without make-up.
Photograph: Hitesh Harisinghani