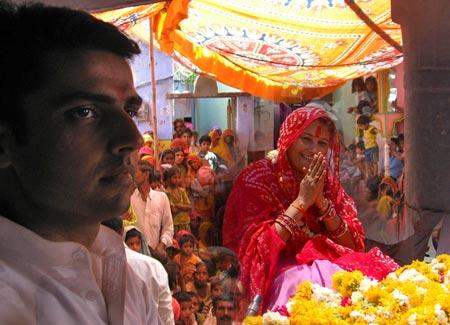 Prasanna Zore and photographer Rajesh Karkera find that the glamour quotient is high in Ajmer's battle of the outsiders.
It's outsider versus outsider, youth versus youth, glamour versus glamour in the Ajmer Lok Sabha constituency where the Bharatiya Janata Party's Kiran Maheshwari and the Congress's Sachin Pilot are pitched against each other.
Let us talk about the outsider part first. While Pilot represented the Dausa parliamentary constituency in the 14th Lok Sabha, Maheshwari was elected from Udaipur.
She resigned her Lok Sabha membership in late 2008 to contest the election to the Rajasthan assembly, and was successfully elected from Rajsamand.
With delimitation, both Udaipur and Dausa became reserved constituencies as a result of which both Maheshwari and Pilot moved out of their bastions and traveled to Ajmer to try their fortunes.
Ask Maheshwari's supporters about her being an outsider and they go on the defensive.
"Isn't Sachin Pilot also an outsider?" asks Rakesh Deedwania, the BJP business cell's district president, who is waiting for Maheshwari's rally to start in Vaishali Nagar. "Kiranji has always been in touch with the people of Ajmer through us. It is not important for a leader to belong to a place to contest elections from there."
He is confident that the women of Ajmer -- and they number almost 600,000 out of the total electorate of 1,457,524 -- will vote only for their behen Kiranji.
"Both Pilot and Maheshwari are outsiders to this constituency," a local Ajmeri told rediff.com "When the current MP Rasa Singh Rawat of the BJP did nothing for Ajmer in the last five years, we Ajmeris are reconciled to the fact that no development will be seen here, irrespective of who wins the contest."
With more than 100 million young voters billed to vote this election, most political parties have made it a point to flaunt young candidates. Maheshwari and Pilot, with their youthful exuberance, fit the bill.
While Sachin is only 31, Kiran is 48, an age considered youthful in a political landscape that prides itself in projecting leaders even on the wrong side of the 60s as young.
"She has been on her toes ever since her name was announced," says Sahdev Chaudhuri, a college-going BJP supporter. "She looks young and energetic and the people of Ajmer have lots of hope in her youth and energy levels."
"I've been visiting at least 14 places in my constituency every day," Maheshwari told rediff.com, "and that requires a lot of energy which only a young person can have."
She jostles with her supporters at one place as they ask her to sit on a weighing scale. They want to weigh the candidate against bananas, a practice considered auspicious by locals here. "It symbolises victory," Chaudhuri says, explaining the reason behind the effort.
The candidate happily obliges, sitting on one side of the scale, even as she is thronged by her supporters. Her youthful charm reminds people of her resemblance to Rajasthan's former chief minister Vasundhara Raje.
"She looks and behaves like Vasundharaji. Look at the style in which she greets people, the way she drapes her sari around herself so elegantly," exclaims Deedwania.
Her looks have not gone unnoticed in the local media. Local journalists rediff.com spoke with just before she addresses a press conference say her presence along with Pilot has ushered glamour to the otherwise dull electoral proceedings.
Both candidates are natty dressers: Pilot in his white kurta-pyjama and the traditional safa (turban); Maheshwari in her elegant sarees.
The rivals are well educated and speak polished English. Maheshwari was educated at Bombay University and has a diploma in IT from Udaipur; Pilot went to St Stephen's College, Delhi, and the Wharton Business School.
Ask Maheshwari about the glamour quotient and she dismisses it with a wave of her hands: "It's a media creation. Ultimately, the people will decide if glamour wins or hard work does."
"As political opponents we may have very divergent views," she adds when asked to comment on the Congressman, "but whenever we meet we will surely be courteous to each other. Sachin is like my younger brother."
The final word, as always, goes to the aam aadmi. "It is glamour versus glamour and both the candidates are perfect," says Chaudhuri minutes before Maheshwari's cavalcade enters his area, Vaishalinagar.
Image: Sachin Pilot, left, and Kiran Maheshwari