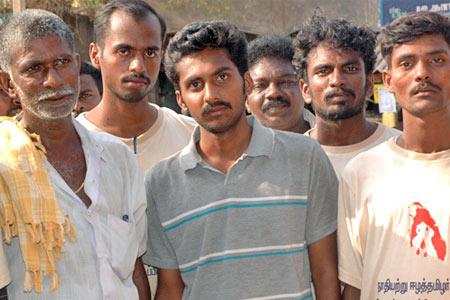 In Sivaganga, two candidates with famous names take on India's home minister, reports Krishnakumar P.
Rajiv Gandhi is very angry with P Chidambaram for not having done anything for the Eelam cause. Backing him up with facts and figures and helping him in the campaign is Arun Shourie.
Hard to believe? Welcome to Sivaganga.
The former is a 25-year-old Independent candidate in Tamil Nadu's Sivaganga constituency and whose only aim is to ensure that Congress candidate Chidambaram loses.
The latter quit his corporate job to found Friends of Muthukumar (who set himself ablaze in support of the Eelam cause in January) a forum to create awareness about the Eelam issue.
How did they get their names?
Law student Rajiv's answer increases the irony quotient. "My family is full of die-hard Congress supporters. My grandfather was an ardent Congress supporter and it was he who named me. But now my family does not support the Congress any more after I explained how the party played an active role in the ethnic cleansing in Sri Lanka and supported the army," he says.
Shourie was named so by an uncle. "In the early 1980s Shourie was a big name in Indian journalism and was really famous. My uncle who was close to him and named me after him," he said.
Though he is not the average Independent candidate, Rajiv's name has brought him unnecessary trouble and attention.
"Chidambaram's son Karthi argued with the returning officer for two hours on why I should not be allowed to contest. First, he said my name was wrong, then when it did not work, he told us, 'have a nice time sightseeing here' in a very sarcastic tone and left."
Why exactly is he contesting?
"So that I get permission for a public rally," is the candid reply.
Rajiv explains: "People like Nedumaran (the pro-LTTE supporter) don't get permission for public meetings. Now since I am an Independent candidate, getting permission is not a problem. We take the Eelam issue to the people and explain how there is a genocide going on barely a few hundred miles from here."
And why particularly against Chidambaram?
"We have nothing against him personally. He happens to be one of the most powerful ministers of the most inept government we have had in recent years. This government, along with being a mute spectator when civilians were butchered, had also helped the Sri Lankan army with arms and weapons. They have also compromised national security in the southern border by allowing Pakistani and Chinese intelligence presence in the region," he says.
What do they hope to achieve?
"We have to find a way to stop the genocide in Sri Lanka and for that efforts should start from Tamil Nadu," says Shourie. "If we play the spoiler and ensure Chidambaram's defeat, this issue will gain some mileage at the national level. That is all we are hoping for."
But there are hurdles aplenty. "Wherever we go, the Congress workers tail us and there have been trouble in many regions. Also, the state is after us. They arrested 15 of our friends on the day of filing nominations, saying we are disrupting electioneering. Then even on Friday, some 10 of our people were taken to the station and beaten for canvassing against the Congress," he said.
All these will definitely do more good than harm for him, he feels.
"Nobody was talking about the Eelam issue when we started out," he says. "Now see, the film people are there and the common man is also thinking about it. They want an answer from the Congress."
Image: Rajiv Gandhi, centre, with his supporters. Photograph: G K Sundaravalavan