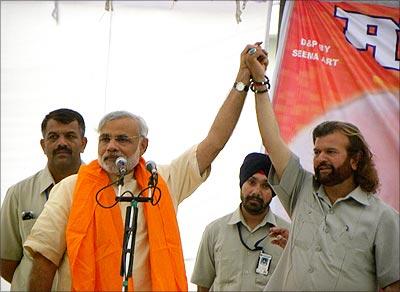 He wooed the people of Punjab with his singing and now he hopes they will vote for him on Wednesday.
Hans Raj Hans
, the Shiromani Akali Dal-Bharatiya Janata Party candidate from Jalandhar who is making his political debut, had a busy schedule going around village to village seeking votes.
In this interview with rediff.com's Vicky Nanjappa, the singer speaks about his journey into politics.
How different is it when you face the people as a singer and now as a politician?
It is not all that different. The important thing is that the respect and the love people have for you. I have received the same kind of love from the people as a singer and now as a politician.
Politics and music can be very different. The people come out to watch you because you are a popular singer. Are you confident that your fans will vote for you?
What is more important is commitment. The people of Jalandhar, which include my fans, are aware that I am committed to the cause of the public and hence I am very confident that my fan base will vote for me in large numbers.
What was easier, politics or music?
Both are different challenges. Politics, I must say, is very difficult. It is not easy at all. There is a lot of work involved here. Here we are dealing with the problems of the people. However, I am confident that I will live up to the challenge and do a good job at the end of it. The reaction from the public has been overwhelming.
My music has helped me a lot and this will help me get the votes. Unlike other candidates, I did not have to give money to the voter asking them to vote for me.
Do you regret taking the plunge and joining politics?
No, I do not one bit. As I said earlier, it is tough, but it is worth the trouble. I am willing to take the trouble for the sake of the people. Now that I have taken the plunge, I cannot and do not want to back out of it. I will go all the way.
Being a first timer in politics has a lot of disadvantages. What difficulties have you faced?
This may be my first time, but that hardly matters. The people know me well and this has been advantageous to me. Moreover, I have sung songs for everyone and broken all caste barriers with my music. I have not been biased with my music and I will not be biased in politics as well.
How do you see your party faring in the election?
In Punjab, we will win all 13 seats. There is every indication that the pulse of the Punjab voter is with the Shiromani Akali Dal. I have campaigned in other parts of the state and have felt the pulse of the voter and it is in the favour of my party.
You seem to have focused more on city-based issues during your campaign. Why the bias against villages?
That is not true. The farmers are facing a problem in Punjab and I have promised to give them a better life if I am elected. The entire farming community and also the city voters are with me.
What does politics really mean to you?
Politics for me is a religion and I am happy that I have been given a chance to contest the elections.
Image: Gujarat Chief Minister Narendra Modi with Hans Raj Hans at a campaign rally. Photograph: Satish Bodas