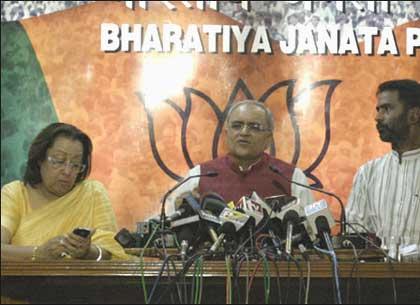 The National Democratic Alliance's prime ministerial candidate and veteran Bharatiya Janata Party leader L K Advani, it is now clear, has to give up his dream of leading the nation.
With the trends showing the Congress and its allies in the lead, it is clear the NDA has not managed to convince the nation that Advani and the BJP are the better option.
Pretty much throwing in the towel, BJP spokesperson Balbir Punj addressed a press conference on Saturday morning. "The trends are clearly not on expected lines and we have to say we are disappointed. We have not done as well as we expected and the Congress is clearly doing better than us."
While admitting that the BJP had missed Atal Bihari Vajpayee's presence -- he has been the only BJP leader to lead the party to victory at the hustings in 1999 -- he added a caveat, "We do not put the responsibility of victory or defeat on any one person."
He also pointed out that the Third Front is not doing as well as they expected. "The Left has failed miserably in West Bengal and Kerala. The AIADMK has not got the results they expected in Tamil Nadu. The results have been disappointing in Andhra Pradesh as well."
Asked which party leaders would be held responsible for the BJP's miserable performance, he said the BJP, unlike the Congress took collective responsibility for its loss.
"In the Congress, all victories are credited to the Gandhis. If there is a loss, someone else is responsible. We don't look for scapegoats."
Image: BJP Spokesman Balbir Punj with Najma Heptullah. Text: Savera Someshwar in New Delhi. Photograph: Rajesh Karkera