Hoodlum, Hunk, Star
Chhavi Sachdev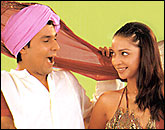 You might recognise him as the Australia-returned hottie Rahul, in Mira Nair's Monsoon Wedding. Or you might recognise him from the numerous television commercials he has done.
I recognised Randeep Hooda because we were in the same high school for our junior and senior years in Delhi. The boy I remember was a total goonda in school, a hellion who broke the rules and my friend Anubhav's finger.
The Randeep Hooda of my memory sported a black eye quite often. He mumbled. He was anti-establishment and rebellious.
He certainly wasn't any kind of actor!
Speaking to him for the first time in 10 years, I am struck by how poised and relaxed he sounds. It is midnight in New Delhi and he had just returned from his ongoing stint as narrator of Manto -- Ismat Haazir Hain, a play directed by his Monsoon Wedding costar Naseeruddin Shah.
Monsoon Wedding, the vehicle that launched Randeep, is a resounding success, grossing $2.2 million in its first weekend in America and has won several prestigious international awards. He is filming another movie. He admits to the goonda phase of his life with no qualms. For a couple of years, that was what he was. But let's start at the beginning…
'The bug has always been there'
Randeep is the son of doctors who live in Rohtak, a town in the northern Indian state of Haryana. He has an older sister and a younger brother. At eight, he went to boarding school at Rai in Sonipat, Haryana.
"I played soccer," he says. "I was a swimmer to start with. Later on, I became a rider." He has medals in national level equestrian tent-pegging and show jumping. And he was involved in theatre. "I love being in front of people. It's a trait I have always had," he says.
"There was this English guy [at school] who used to do theatre productions," Randeep recalls with a mischievous laugh. "I used to keep turning up for them and [would] get thrown out of them every time. I'm sure it wasn't for the way I did my part. But after he left, I did some good productions, one of which I even directed. So the bug's always been there."
His family wanted him to become a doctor. In the middle of his junior year, he was transferred to Delhi Public School, in the R K Puram area of New Delhi. The school had a reputation for sending its students to the best medical schools. "It was a huge learning curve," he says. But he never broke into the theatre clique. "First of all, I was taken aback by the fluency of English that people had. I mean, I could speak decent English but the slang people used in Delhi I wasn't used to. So I used to avoid opening my mouth in public."
Also, he says, the transition from an environment where he was popular to one in which he was unknown was difficult. "I wasn't shy," he says, "but you know what they say --- an inferiority complex breeds a superiority complex."
Instead of acting in school productions, Randeep chose to run 'interference' for the boys in his hostel. "If anybody had to skip school, leave school, get drinks, get their exam papers done by someone else, I was the guy who arranged all that," he explains with remarkable candor. "I watched The Godfather and put it to good use. And yeah, I was a bit short-tempered and a bit frustrated in school so all that contributed [to the attitude]."
Where did that Australian accent come from?
Randeep flunked his chemistry exit exam after 12th grade. He retook it and passed, but college was out for that year. After bumming around Delhi University for a year, Randeep decided he had had enough.
"My three years in Delhi changed me a lot. I think I outgrew Delhi." In 1995 he decided to go to school in Australia for a degree in business management. At the back of his mind, he hoped he could get to Hollywood from there.
He almost flunked his first year, but when he contemplated switching to a degree in performing arts, his father categorically ruled that out and suggested he return to India instead. So Randeep stayed in school, getting not only his bachelor's degree but also a master's degree in business management and human resource development in Melbourne. To support himself, he waited tables, worked in a car wash, and tended bars. "I tried all kinds of jobs. And I drove taxis for about two years."
His epiphany came when he saw people at close quarters: "You better do what you really want to do otherwise you'll be as snooty and snappy as all these people who are making lots of money but are not happy."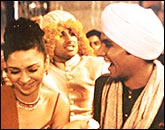 He returned to India in 2000 and started work in the marketing department of an airline. Then he started doing amateur theatre in Delhi. He also did some ramp modelling and some print and television ads. While rehearsing for his first play, To Teach His Own, he got a call from a woman named Mira Nair, who said she would like to audition him for a role.
He didn't know who she was until after his screen test. The next day she called and said, "Would you do me the honour of working in my film?" Randeep laughs as he recounts the conversation. "I was jumping around in my apartment."
He dropped To Teach His Own with his director's blessings and threw himself into the part. And he got to speak with an Australian accent.
He had no idea that the film would be so big else he would have worked harder. "Every time I see the film, I feel [Naseeruddin Shah] is slapping me on my ear," he says. "I can see my mistakes. So I've stopped watching it altogether."
Life after Monsoon Wedding
While producers are not beating down his door to sign him in the next Bollywood masala movie, Randeep has a few rods in the fire. He is about to start shooting for The White Noise, a film directed by Vinta Nanda. He's also going to appear in Kali Shalwar Aur Kuchchh Kahaniyan, a play based on more of Saadat Hasan Manto's short stories. On the side, he continues to do television commercials 'to pay rent.'
The play, Manto -- Ismat Haazir Hain, is booked for the next eight months and has been performed in Mumbai and in New Delhi at the National School of Drama's National Theatre Festival.
Perhaps the biggest benefit of doing Monsoon Wedding was meeting Naseeruddin Shah. "The relationship that was in the film still exists," he says. "He calls me Randeep now," he says, referring to the fact that in the film, Shah's character mainly refers to the character that Randeep plays, Rahul, as 'idiot'.
"I met him as a colleague. Slowly he became my friend, then my guru. Then he became my director, and now he's all of those combined," says Randeep. The part in Manto -- Ismat came from badgering Shah into taking him seriously.
'It's my skin'
Right now Randeep is attending and assisting an imagination and improvisation workshop Shah conducts at the National School of Drama. "I'm doing my apprenticeship with utmost guru bhakti," he says.
And, yes, Randeep would certainly consider commercial cinema. "I think it's important for any actor in India to do commercial cinema, to get that initial name going, so that other things that you do are also noticed," he says. "But that '1, 2, 3, 4 jhatka, jhatka, shoulder-shake' I can't do," he groans.
But most important, he wants to be known as a good actor.
There's no doubt that the Randeep Hooda I thought I knew has laid some ghosts to rest. "Yes, I am very comfortable where I am now," he tells me. "Every day I get up, I have something to look forward to… I feel it's my skin."