After the success of Pammal K Sambandam, director Mouli is making another film with Kamal Haasan. But this time, Haasan is not acting in the film. He is the producer.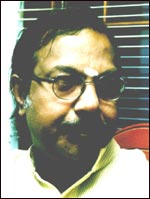 Nala Damayanthi, produced by Raj Kamal Productions, will star Madhavan (Nala) and Geetu Mohandas  (Damayanthi).
Mouli was preparing to go to Australia this month where major portions of the film will be shot. He was a relieved man when Shobha Warrier met him as the long search for the heroine had just ended. For the last few months, the director and production house had been interviewing and auditioning several girls but could not find the girl they had in mind. Their search ended with Geetu Mohandas.
What have you been doing after Pammal K Sambandam?
I was planning a film with Chiranjeevi in Telugu. He saw Pammal K Sambandam and liked it immensely. He suggested we make a lighter film like that in Telugu. We discussed various subjects and even finalised a story. I wrote a rough script too. We wanted it to be a humourous film, but one that would suit Chiranjeevi's image. We would have started shooting the film if Nala Damayanthi did not happen then.
We have to shoot this film in Australia in February and March, hence the Telugu film has been delayed.
Why February and March?
In these months, the climate is conducive to shooting on location as it is summer in Australia. We will get longer days to shoot, as sunset is around 8:30 pm. That will give us plenty of time to work during day time.
Another reason was that Madhavan's dates were available only during those months. I decided to finish Nala Damayanthi first. Meanwhile, Chiranjeevi is doing another film in Telugu. After he finishes his film, we will come together and make the film that we were planning.
How did the offer to direct Nala Damayanthi happen?
I have been associated with Kamalji as a friend for several years. I read and hear all the stories that he writes. Kamalji wrote this story about five, six years ago. I was fascinated when I first read it. We planned to make the film with Kamalji but somehow, it did not work out.
After Pammal, I was planning to make a Tamil film and another in Telugu. Suddenly, I remembered this script and asked him whether I could make a film out of it. At that time, Kamalji was planning to make a film with Madhavan. He said, why don't you do it for us? Kamalji approached Madhavan and he readily agreed. That's the story behind Nala Damayanthi.
Has the film anything to do with the mythological characters, Nala and Damayanthi?
Nothing, except that the hero in this film is a cook from Palghat. As you know, Palghat Brahmins are famous for their culinary skills. Nala, the king, was supposed to be a master cook.
The story is about an Indian cook on foreign soil. When he is in dire straits, he is offered the job as a vegetarian cook in a Chettiar house in Australia. It is because of sheer necessity that he goes to Australia. Otherwise, he is quite happy cooking in Palghat.
Unfortunately, after he lands in Australia, he does not get the job. He is forced to look for some other job. Luckily, he finds a cook's job in an Indian restaurant. In the entire fiasco, the uneducated cook loses all his documents. He has no idea how dangerous it is to stay in a foreign country without proper documents. Fortunately, some people, including a young girl, help him out. Slowly, love blossoms between the not-so-educated cook and the educated girl who is born and brought up in Melbourne, Australia.
Is it a comedy?
Not exactly. The film is not about humour and laughter alone. There is a poignant story in the film. There is a lot of humour but we have not created any situations just for laughter. The situations just happen and make you laugh. For example, this man suffers because of his lack of knowledge of English, which may look funny to the viewers but to him, it is not funny.
Were you more keen on directing Kamal Haasan as Nala?
I would have preferred Kamalji because he had written the script. It was meant for him. I am happy that Madhavan also suits the character well. I discovered that when we shot a wedding last week. We have finished a week's shooting here.
Are you satisfied with the way Madhavan portrayed the character?
Yes. Madhavan had done quite well. Of course, Kamalji would have done a little differently. Madhavan is doing it in his own way. I must say Madhavan has understood and portrayed the character very convincingly.
Did you ask Kamal Haasan to do the role?
No. If he was interested, he would not have offered it to Madhavan. After Pammal and Panchatantram, he was more interested in doing a serious film.
One of the roles he did in Michael Madana Kama Rajan was that of a Brahmin cook from Palghat…
He has done shades of similar characters in other films too. Perhaps, that is why he decided not to do it again.