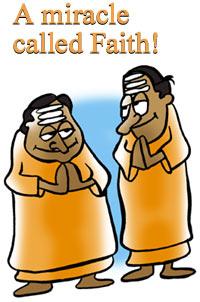 My father served in the Indian Army [ Images ] and was part of a society where Western values and beliefs were as prevalent as the ones at home. Yet, he hadn't lost touch with his religious roots. I remember waking up to the sound of recorded devotional songs every morning as he moved from one room to the other, incense sticks in one hand and a small bell in the other. His morning ritual rubbed off on my mother, who also cultivated the habit of praying at the start of each day.
As a child, I never prayed on a regular basis. There was always the school bus to catch in the morning or friends to play with after school. The only time I would genuflect before the Almighty was on the eve of my exams or during festivals. So I never really realised the importance of faith in our daily lives until that seemingly insignificant summer day.
We were living in Secunderabad then. I was in the 11th standard and had chosen to study science and mathematics in what, I hoped, was my first step towards earning an engineering degree from a premier institute like IIT. My father was posted to Nagaland, but we had not shifted with him. It was a situation we had grown accustomed to over the years. Every few years, my father had to take up a posting where we could not accompany him, like his two years with the Indian Peace Keeping Force in Sri Lanka [ Images ].
| | |
| --- | --- |
| | More exciting diaries! |
| | |
The doorbell rang one late summer afternoon. As usual, it was my mother who answered it. Two people, dressed in saffron, with ash smeared liberally across their foreheads, were waiting outside. They were very different from the regular swamis who come to mind whenever we think of such people. They were young -- in their early twenties, I guess -- tanned to a dark hue by the sun and clean-shaven. They did not recite any holy hymns and they hadn't come looking for alms.

They started talking to my mother about how my father was currently in a faraway location and other stuff about our family that caught my mother's attention. They told her they were disciples of Sai Baba and wanted to bless her house.

My mother, who is generally a practical person, was impressed; their knowledge of our family and certain personal incidents may have had something to do with it. It was as if she was hypnotised by them. She invited them into the house and listened to their words with rapt attention. They wanted to do a pooja to bless the house.

I was called and saw my mother sitting with her eyes closed and hands folded in front of them. Frankly, I could not understand how these two strangers had earned her trust in such a short span of time. Since I had no interest in the pooja, I returned to my room.

After a few minutes, they asked my mother if she would help with a donation to build a temple. They narrated the story of a man who had refused to help and had to face hard times. My mother thought they were testing her and came back with some of her jewellery. The two decamped with their loot and my mother, who is otherwise a practical person, still thought it was some kind of a test.

Meanwhile, I returned to the drawing room. My mother told me what had happened and said the swamis were testing her belief. She realised she had been taken for a ride only when they showed no signs of coming back.

My father's army helper came in at that point. We immediately set off in search of the two conmen. Our effort was proving futile and, just as the thought that they might have got away entered my mind, my mother spotted them. Our helper did not waste any time in catching them and recovering my mother's jewellery.

But, just as he was going to beat them up, I involuntarily reached out and stopped him. I don't know why I was trying to protect the people who had robbed us. Perhaps it was their scared expression; perhaps it was their helpless demeanour; perhaps it was the realisation that my mother's blind faith was responsible for the incident.

We let them off with a stern warning. I haven't seen them since.

My mother's irrational faith in God and her belief in his 'messengers' had almost led to her being robbed that afternoon. But wasn't it a miracle that we found the conmen 10 minutes after they had taken off with their bounty? It made me realise that matters of faith can't always be explained; sometimes, small miracles can go unnoticed.

Illustration: Uttam Ghosh

Click here for more diaries!