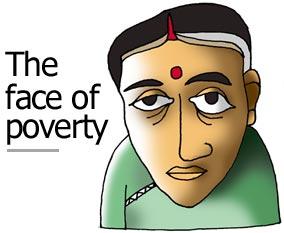 "Kitna pagar legi [How much salary do you want]?" I asked the woman. We were negotiating remuneration for her daughter who was barely a teenager.
My daughter was coming home after delivering a baby in America and I desperately needed a maid to help me look after the baby. I was so excited! I imagined holding my granddaughter's hand and playing with her little fingers.
I turned my attention back to the woman. She looked so old and thin and had a couple of teeth missing. She was wearing a synthetic sari. Her only adornments were her sindoor (the vermilion mark on the parting for the hair and signifies a woman's marital status) and a round bindi.
I looked at the girl. She was wearing a salwar kameez. She seemed slightly shy but confident.
"She knows all the work, behenji [sister]," the woman said.
I was a bit shocked when she called me behenji. The woman looked like my mother.
"She is affectionate and will look after your grandchild well," she continued.
"All right," I said. I liked her daughter.
| | |
| --- | --- |
| | More exciting diaries! |
| | |
"Behenji, I don't think you have recognised me," the woman said.

"No," I said. She looked unfamiliar. I did not know any one who was so old.

"I came to you to look after your daughter."

I looked at her again.

"Lata," she said. "Remember?"

"Lata!" I exclaimed in astonishment as I gaped at her.

If class distinction were not so ingrained in my mind, I would have hugged her. How could I forget her?

I was so young -- barely 20 in fact -- when my elder daughter was born. Lata came to me like manna from heaven. One year later, my second daughter was born.

I remember Lata so well. She was sincere and hardworking and loved my daughters like her own. Lata must have been 12 or 13 then. She stayed with me for nearly six years and those hectic days passed so easily. She was such a help. In fact we both learnt a lot from each other. I was so tired and confused and Lata's presence really helped me to cope with two trying children and an absentee husband. She was good with the children, the kitchen and my mood swings.

Lata grew up to become a very pretty girl. Most of the time, she wore my hand-me-down salwar kameezes and still managed to look better than I ever did in them. She gave up oiling her hair and opted for shampoo instead. She started wearing a nightgown to bed. She threaded her eyebrows.

I loved her and she loved my children. When my husband went on tour, Lata and I would sit and watch horror movies on the VCR. She was more like a younger sister than a house help.

Then, her mother came and took her away. She was to be married. They had found a nice boy in their village for her. He was well-to-do and had lot of land. I remember being excited about Lata's marriage and buying her clothes and a silver set plated with gold.

I was shocked to see what the years had done to Lata. She filled me in on her life -- she told me how it did not rain, how they had to mortgage their fields, how her husband took to drinking, how her daughter was born after five sons.

I gaped at her again.

Six children! No wonder she looked 10 years older than me.

I looked at myself again. My face hardly showed any wrinkles. It was the result of all the facials and bleaches and threading I had done over the years. I did not look like a grandmother. My body was plumper than hers, but so much more attractive.

It had nothing to do with the number of children we had borne respectively. It was her poverty that had made all the difference.

Illustration: Uttam Ghosh