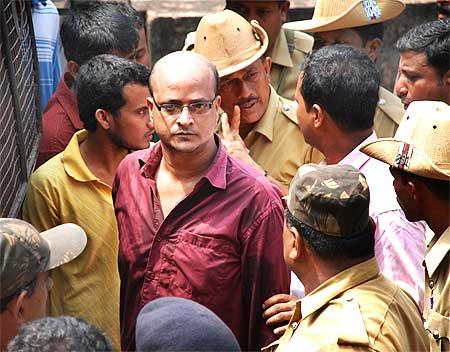 Rasheed Malabari, a resident of Kerala had come into coastal Karnataka's Mangalore town with a two-pronged agenda. His instructions -- from notorious and elusive don Chhota Shakeel who is hiding in Pakistan -- were to eliminate Varun Gandhi and Pramod Muthalik.

Intercepts picked up by the Intelligence Bureau suggest that Malabari, a right-hand man of Chhota Shakeel, was assigned the job of eliminating both Varun and Pramod Muthalik as they felt that these two had become a threat to the Islamic community in India.

Investigations, which have been carried out following the arrest of Malabari, have now revealed following the violence and panic created by the Shri Ram Sena in Mangalore, the plan was hatched in Pakistan to eliminate its leader Pramod Muthalik.

While the planning was in progress, the Varun Gandhi issue came under spotlight and Malabari was specifically instructed to stay back in Pakistan and hatch another conspiracy.
Once the conspiracy was hatched, Malabari moved into India from Pakistan. He came into the Mangalore belt first and then set up a base at Kasargod. Once the safe den was set up, he started organising men to carry out the attack.

Investigations have revealed that Malabari and his men had decided to play a wait-and-watch game before carrying out the assassination of the two leaders. Malabari told his interrogators in Mangalore that they were waiting for the election process to commence.

They planned to go ahead with their mission once the campaigns of the two leaders commenced.

The police, who arrested Malabari and his associates earlier this week, have also seized two pistols, ammunition and Rs 19,000 in cash. The amount paid to carry out the assassinations is still unclear.

However, a police source told rediff.com that Malabari was given a couple of credit cards and there was no spending limit specified on that.
Thirty-year-old Malabari, according to investigating agencies, is a key person in the Chhota Shakeel network. He rose to fame for the first time when he carried out the attack on Chhota Rajan at Bangkok. He remained in Bangkok for a long time before fleeing to Pakistan after a red corner alert was sounded against him.

Malabari, by this time, had earned the confidence of both Shakeel and Dawood Ibrahim and in due course of time became a trusted aide. His initial operations were from Pakistan and Dubai. However, after a couple of years, he was asked to concentrate on India. He then began building a base in both Uttar Pradesh and Mangalore, and hence, was assigned the task of carrying out the assassinations.

Rasheed's family too was actively involved in the underworld. His brother Ismail too was a key member of the D Gang. However, he was gunned down in an encounter by the Mumbai police in the year 2000.  

Both investigating agencies and the Intelligence Bureau are now trying to figure out how Malabari managed to step into India despite a red corner alert. They are probing whether this man came in on a fake passport or he could have used the very famous Lashkar-e-Tayiba route through Nepal. However, the fact that the man had set up his den in Mangalore was known after an intercept, which was picked up by the IB.
Image: Rasheed Malabari at Mangalore court
Text: Vicky Nanjappa | Photograph: Dayanand Kukkaje, Daijiworld