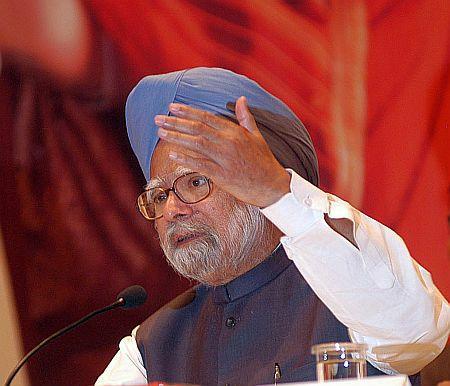 Prime Minister Manmohan Singh on Monday said the 1984 anti-Sikh riots as also the Gujarat carnage were blots on the secular image of the country.
"I feel both are blots on the secular image of the country. Such things should not happen," he said at a press conference in Mumbai.
He said as an opposition party, Congress had forced the NDA government to take strong action against the Gujarat government in the aftermath of the riots.
Dr Singh also rubbished BJP chief Rajnath Singh's claim that he was consulted before the release of Kandahar terrorists saying the remark was "total untruth".
"The statement of Rajnath Singh which says that I as Leader of Opposition in the Rajya Sabha was consulted before the decision on releasing the Kandahar terrorists, is total untruth," he said.
Citing a television interview given by L K Advani in which he had said that he was not aware of the decision to release the terrorists, Dr Singh asked, "Do you believe that BJP had greater faith in me than its Home Minister (Advani)?"
Dr Singh said the Congress, which was in the opposition then, criticised the conduct of the government in handling the Kandahar episode.
Hitting back at Advani for his "weak PM" refrain, the prime minister said speaking loudly did not make a person strong and felt that strength was reflected in the capacity to 'act in time and with determination during difficult circumstances'.
Dr Singh said Advani had the unique ability to combine strength in speech with weakness in action.
"Leaders of the country must not mislead the country," he said, adding that Advani must not get away by making "false accusations".
Comparing the difference in approach of Congress and BJP towards terrorism, the Prime Minister said while the NDA government released the Kandahar terrorists, the UPA government did not encourage terrorism.
"We killed nine terrorists in Mumbai and captured one alive. That is the difference between us and BJP," he said.

Asked why there was delay in hanging Parliament attack accused Afzal Guru, he said action was being taken as per the law.
To another question, he said that to protect the unity and the integrity of the country, it was important that national parties like Congress are encouraged.

Image: PM addressing media persons in Mumbai.
Text: PTI | Photograph: Arun Patil