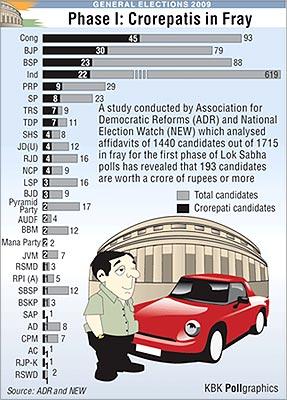 The Congress has topped the list of parties fielding 'crorepatis' in the first phase of the Lok Sabha elections, with nearly 50 per cent of its candidates in the electoral fray having assets in crores. At least 193 millionaires are in the race to enter the 15th Lok Sabha in the first phase to be held on Thursday, says a report by the independent body, Association of Democratic Rights.

While 45 of the 93 candidates fielded by the Congress in 11 states are 'crorepatis', the Bharatiya Janata Party has fielded 30 super-rich contestants out of its total kitty of 79. Meanwhile, the average asset per candidate is Rs 23 crores for Chandrababu Naidu's Telugu Desam Party which has 11 candidates trying their luck in the first phase and it is Rs 10.6 crores for Sharad Pawar's Nationalist Congress Party which has nine candidates in the fray. The Congress which leads in the number of millionaire candidates, however, has Rs 4.3 crores as the average asset per candidate and the BJP rests at Rs 2 crores. Compiled by the ADR on the basis of the affidavits filed by the contestants, the report says that the percentage of 'crorepatis' contesting the polls has increased from nine per cent in 2004 to 14 per cent in 2009.

The richest candidate in the electoral fray is Nama Nageswara Rao of the TDP, contesting from the Khamman constituency of Andhra Pradesh. He has assets worth Rs 173 crore. However, there are also 76 candidates who have 'zero' movable and immovable assets, the report says. Andhra Pradesh leads in the state-wise break up, with 64 of the 314 crorepati candidates, while Uttar Pradesh comes second with 35 such contestants, the ADR report said.