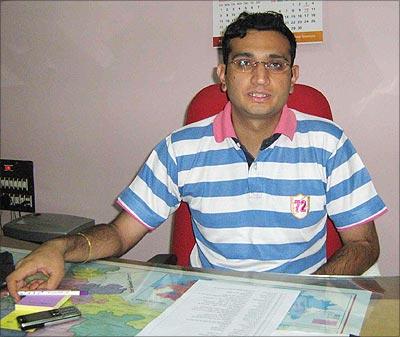 The Election Commission's stringent dictates have ensured 'clean' campaigning in Andhra Pradesh -- there are no political posters, no banners and no wall paintings.
The District Collector in southern India and the District Magistrate in northern India are in charge of conducting the elections. But it is the District Superintendent of Police who is in charge of maintaining law and order and ensuring peaceful elections.
The city commissioner and the rural SP are the two men in charge of Visakhapatnam.
Dr Akun Sabharwal, the SP of rural Vishakapattinam, is young, dynamic and ready to take every possible step to ensure free and smooth voting.
"I am satisfied with the pre-poll preparations. We are sure that voting will take place without any fear or hindrance. Two additional SPs, ten deputy superintendents of police, 33 inspectors, 104 sub-inspectors, approximately 400 head constables and 2,500 constables are on duty to make sure everything runs smoothly," he told rediff.com.
The local police have already seized cash, liquor and cricket kits from all major political parties. "They have been booked under Section 41 and Section 102 of the Indian Penal Code. The cash and other material have been handed over to the court. Now they will have to explain their actions to the court. If the court is satisfied with their explanation, they can take their cash back. Otherwise, the court will decide on the quantum of punishment," he informed.
"Anakapalli and Yerramachilli assemblies are receiving complaints about money distribution. Since Monday, 140 mobile teams have been working; seven different officers are monitoring the situation round the clock. They will recover anything they find," he said.
This is the fourth election Sabharwal has witnessed as a police officer. He was posted in Assam during the 2004 Lok Sabha polls, in Penugonda in the 2005 by-elections and in Karimnagar in the 2006 by-polls.
Andhra Pradesh is one of the states worst hit by Naxalism. A few months ago, 60 Naxals had laid down their arms and surrendered before the young SP.
"Their rehabilitation is still underway. They were not Naxalites -- they were armed militia. Naxalites are those who move around in groups in the jungles and can be shifted to other states. The armed militia stay near their villages. They operate locally, they cannot be shifted to other states. The two help out each other."
The police are now reviewing the cases registered against them. "We can't and will not forgive murder. The courts will decide on the matter," he said.
Sabharwal feels that today's youth should have 'josh and hosh' (enthusiasm and awareness) if they want to succeed. Speaking on the situation in India, he says, "We are moving forward, we need to increase the pace. We have to improve in the areas of hygiene, unemployment and poverty. Everybody including the government is making an effort". 
Image: Akun Sabharwal
Text and Photograph: A Ganesh Nadar