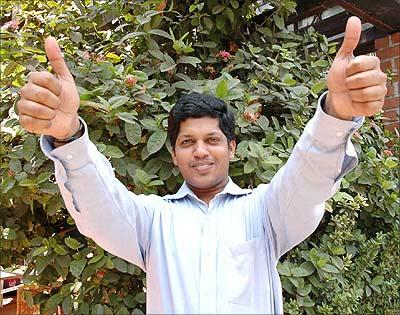 Unusual candidates are taking the political plunge this polls. If  ABN Amro's country head has thrown her hat in the political ring in Mumbai, then a self-made young entrepreneur -- whose rags-to-riches story has inspired a million souls-- has joined the electoral fray in Chennai.
E Sarathbabu thinks he can deliver. Because all his life, he proved what he can do. From a slum in Madipakkam in Chennai, where his mother sold idlis to educate him, he is the proud owner of Rs 70 million Foodking, a catering service that has five branches across the country.   
From the slum, he went to BITS, Pilani to study engineering and then joined the most prestigious management institute in India, IIM-Ahmedabad. After passing out of IIM-A, he declined offers of many MNCs to start his own enterprise.
His motto: provide job to as many people as possible and eradicate poverty.
"I know what hunger is. I have experienced it. So, I want to empower people by providing them jobs," he said, after he started his business.
Having empowered some with his catering units, now he sets his eyes on empowering the nation by deciding to contest in the Lok Sabha polls.
Sarathbabu is an Independent candidate from the prestigious South Chennai constituency. In an interview to rediff.com, Sarathbabu speaks about his new plan.
In the world of politics, money and muscle power rule. Why did you take the plunge?
Every second person tells me the same thing. Ninety per cent of the educated people in the country tell the same thing. So, there has to be a change. Unless educated people enter politics, the mindset of the people will remain the same; that politics is dirty, and it's not for us. We will say the same thing even after 20-25 years, too. In that case, there will never be any change.
As an independent candidate, what kind of change can you bring about?
The major change I hope for is, educated people and youth should come into politics. After all, we have the maximum number of young people in the world. It is our country and our future, so we should write our future and the future of our next generation.  At least for the next generation, they should be less corruption, less poverty and more opportunities in India. That is the change I hope to have.
Any particular incident triggered you to move from business to politics?
There are three incidents, not one. For the last three years, I have been thinking about joining politics. After IIM-Ahmedabad, I could have taken up a high-paying job. I chose my heart when we were living in the same old hut. As I have told you then itself, the decision to start my own enterprise was to create jobs which is a service to the people. As I was travelling in a train, I saw a small poor child selling gutka in the train. He used to give gutkas free to the policemen so that he could travel and sell gutkas. One particular day, he refused to bribe and he was thrown out of the train and he in turn lost his hand.
In that incident, I saw corruption, poverty and also the death of a young entrepreneur. It is very important to have a corruption-free system.
The Mumbai terror attack also made me think that unless you have strong people at the helm, such terror attacks are bound to happen.
Also, in the last two and a half years, I must have addressed more than 270 functions in colleges and school. Altogether, I must have spoken to around 4 lakh students.
What do you tell them?
I tell them about how I came up from a slum to this position. In schools, I only tell them about my childhood experiences. I tell them to study hard and dream big. I tell them about my journey from a slumboy selling idlis on the streets to IIM Ahmedabad and starting a company of my own.
If at least one college student started a company after listening to me, I will be happy because that in turn can provide at least a hundred jobs.
You are serving people by providing jobs. Why do you want to enter politics?
It is a bigger platform from where I can do more. Instead of creating one company and supporting it, I can do a lot more. I can create a thousand companies and support as many people. That is the kind of scope politics offers you.
How hopeful are you about your chances?'
I am not here for short-term gains. I am not going to make a statement in this election and move away. I am aware of the positives and negatives in joining politics. I am looking at being in this field for the next 20-25 years. This is my step.
Chances?
We are working hard. We are not that worried about the result. I am young, and young India is looking for young energetic, selfless educated individuals in politics. That is the need of the hour. You look at any political party, no young man of 30 is there at the top unless of course of his lineage.
Are you in an advantageous or disadvantageous position in politics?
I feel I am in an advantageous position because a whole of lot of youngsters identify with me and support me. But I have to meet a lot of people. The start has been good so far.
Will you be disappointed if you lose the battle?
No. Without any money and muscle power, if I can garner a few thousands of votes, I will be happy. But next one month is crucial and if I put in a lot of hard work, I also have the chance of winning the seat. If 80-90% people come out and vote, I have a chance. My request to all the people of South Chennai is, please come out and vote.
Other than creating jobs, what do you plan to offer?
I want to tell people that all these years, political parties have succeeded in keeping the literate educated people away from the political scene. That is their success.
The poor are also kept in the same poor position without helping them come out so that their vote bank for the next five- ten years is assured. I come from a slum. It didn't take much money to change me from a slumboy to a student of IIM-A. Educating people is like empowering them. If you empower them, they will start thinking and then the politicians will have to address their concerns.
When I go to the slums from where I came, I think why they are still there.
I want all slum children to learn and speak English apart from their mother tongue. Your mother tongue is more important than anything but they have to learn English to widen their horizon. My mother understood the importance of education. For her educating her children was more important than providing them food. Similarly, all state governments should keep education as the number one priority.
Interview: Shobha Warrier in Chennai.
Image: E Sarathbabu. Photograph: Sreeram Selvaraj