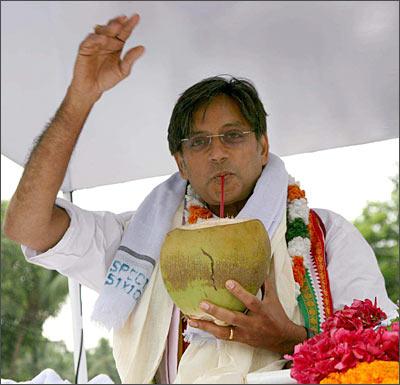 A first-time voter, Shashi Tharoor -- former UN diplomat and Congress Lok Sabha candidate from Kerala capital Thiruvananthapuram -- on Thursday said he was proud to exercise his franchise in home land, after having remained an NRI all his life.
"This is a proof that I have finally cast a vote in the Indian democracy," Tharoor said, after casting his vote at a polling booth in the state capital.
Tharoor, who left India when he was 19, shifted his base to Thiruvananthapuram after his tenure as Under-Secretary at the United Nations ended a year ago.
"It is a great privilege to vote. And the extra bonus is to vote for myself," he said.
The high-profile Congress candidate said judging by the enthusiasm and response of voters in the last weeks, "if all that turns into vote, I should be able to walk along."

Text: PTI | Photograph: Jay Mandal