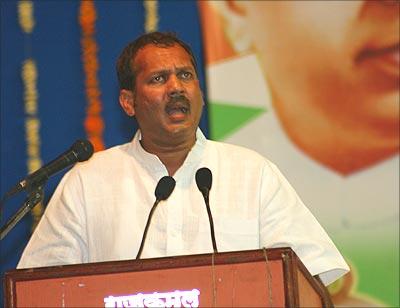 Prasanna Zore and photographer Sanjay Sawant travel to Satara in western Maharashtra and get upclose to a battle royale.
Udayanraje Bhosale, the 13th descendant of Chhatrapati Shivaji Maharaj and the Nationalist Congress Party candidate from Satara, told rediff.com at his palace in Satara, that if Shiv Sena Executive President Uddhav Thackeray has guts, then he should face him in a one-on-one.
"I dare him to say what he said against me and my family in front of me and he will see what I am capable of doing," says Udayanraje who is engaged in a tough fight against the Sena's Purushottam Jadhav.
"And I am not saying we will have this one-on-one in Satara. I am eager to meet him wherever and whenever he wants to meet me," he says.
Udayanraje is referring to a speech Thackeray made at a rally in Satara on April 15 where the latter dared Udayanraje to drop the 'raje' (king) -- indicating his lineage with Shivaji -- and then face the electorate. 'Not even a dog would respect Udayan Bhosale if he dropped "raje" from his name,' Uddhav is reported to have said.
"The people of Maharashtra added 'raje' to Shivaji's name as a mark of their affection and gratitude for establishing swarajya in Maharashtra," points out Udayanraje.
On Sunday evening Udayanraje dared the Shiv Sena to drop 'Shiv' from the party's name and face the electorate. "Let them call themselves Thackeray Sena or any other thing but Shiv Sena and see how the people of this state will treat them," Udayanraje said to thunderous applause from the 20,000-strong crowd who had gathered at the Zilla Parishad ground in Satara to listen to him and Nationalist Congress Party supremo Sharad Pawar.
His speech has only helped me "as the swabhimani janata (proud public) of Satara will now give him a befitting reply on April 23 (the day Satara goes to the polls)," he declared at the rally.
He told rediff.com, "There are two types of people: One who command respect and one who demand respect. I belong to the first category and Uddhav Thackeray belongs to the latter category."
Udayanraje castigates the Sena for supporting Mahesh Jethmalani's candidature from the Mumbai North Central parliamentary constituency. "It is this same person who fought for author James Laine, who had written malicious and derogatory things about Shivaji Maharaj in his book. How can you trust such people to uphold Shivaji Maharaj's respect?" he asks.
Laine's controversial book Hindu King In Islamic India is now banned in India.
"While in a free democracy people do have a right to voice their opinion and can have differences of opinion one should not use filthy language to tarnish anybody's reputation," the aristocrat argues.
"That speaks a lot about Uddhav's upbringing and shows him as an immature leader. It is for the people of Maharashtra to decide if they can trust the affairs of the state to such an immature person," Bhosale adds.
"If such people are going to rule Maharashtra, then God save Maharashtra," he declares.
Bhosale served as a minister of state for revenue when the Shiv Sena-Bharatiya Janata Party coalition ruled the state from 1995 to 1999; he then joined the Congress party.
"He has been a constant party hopper and is interested only in satta (power) and does not have the interests of the state in his heart," Sena candidate Purushottam Jadhav told rediff.com. "He jumped ship from the Congress to the NCP because the Satara Lok Sabha constituency fell into the NCP's kitty."
Image: Udayanraje Bhosale at a election rally in Satara