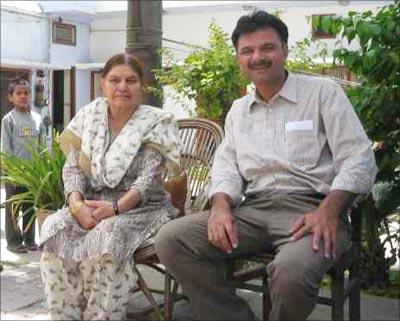 With elections to the 15th Lok Sabha upon us, rediff.com's reporters speak to voters across the country to find out what's on their mind.
Irshad Mohammad Khan teaches law in the local college of Khurja in Gautam Buddha Nagar in Uttar Pradesh, but his heart is in politics. He is inspired by his ailing father Mohammad Iqbal Khan, who was associated with the Congress for almost half a century
The G B Nagar constituency has some 1.5 million voters, which includes around 2.5 lakh Muslims, three lakh Gurjars and three lakh Thakurs. The Samajwadi Party and Bahujan Samaj Party are fielding Gurjar candidates to corner their votes. The Congress has fielded Ramesh Tomar, a Thakur who joined the party when he was denied a ticket by the Bharatiya Janata Party in Ghajiabad, from where president Rajnath Singh is contesting.
G B Nagar is linked to the 'milk mafia'. In Uttar Pradesh, Gurjars dominate the booming business of milk and its transportation. Through their contacts in the government and railways, they run the business on their terms.
Many Muslim voters are now in a dilemma. If they do not vote for the Congress candidate, who is a defector from a Hindu party, then Bhartiya Janta Party candidate Dr Mahesh Sharma's chances get better. He runs a successful hospital in Noida and has got a reasonably good image.
Irshad says, "Since the Congress candidate is not a true Congressman, Muslim votes will get divided between the BSP, the SP and the Congress."
He says, "Many Muslims decide on their vote by considering which candidate will be able to defeat the BJP. But this time, in many constituencies, Muslims are unable to judge who will give a serious fight to the BJP! Our area so huge that it is difficult to assess which non-BJP candidate is in a position to win."
Irshad has not yet decided whom he will vote for, but he says that many Muslims do believe that if you want to defeat the BJP at the national level, it is necessary to lift the Congress.
Interestingly, Irshad gives us the very simple formula behind the complex process of  winning an election.
He says, "In any election, to win from any seat, the candidate needs three 'caste' or blocks of votes. One, his own party's core voters, plus the votes of the candidates' own caste and plus, one more block of votes from a community which should give the winning edge. You need three castes to win any Lok Sabha seat."
For example, if the Congress' Ramesh Tomar wants to win an election from Gautam Budhdha Nagar, he will need traditional Congress votes, plus votes from his own caste of Thakurs, one more block of votes that could be Dalits, Muslims or Gurjars, which range from two lakh to three lakh in this area.
Irshad Khan also believes that, "The Congress is on a path of revival in UP but it may not win in terms of seats. Its vote percentage is likely to increase in 2009."
He says that the Muslims of Uttar Pradesh are not at all ready to take into account the fact that Kalyan Singh can help defeat the BJP. Muslims perceive him as a Hindutva leader who ruled UP when Babri was demolished, he says.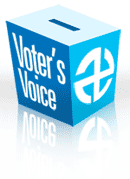 He says, "Whoever comes to ask for the Muslim votes boast that they are 'defeating the BJP'."
While talking about the BJP candidate Dr Sharma, who is a Brahmin, Irshad says, "M any  Thakurs in our area think that if the BJP candidate wins from here, then this seat will turn a 'Brahmin seat'. Thakurs will think twice before voting for the BJP's Brahmin candidate."
He says, "In places like Khurja, corruption remains a big issue. To get a job as a teacher in government-run schools, people have to pay Rs ten lakh as bribe. That hurts."
Image: Irshad Mohammad Khan with his family
Text & Photograph: Sheela Bhatt