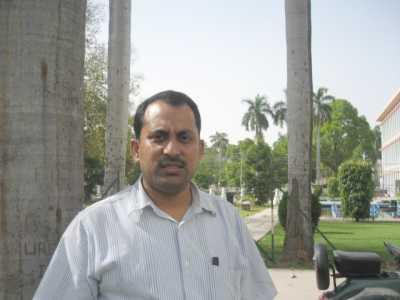 An expert in colonial Indian history, Dr
Mohammad Sajjad
teaches at the Aligarh Muslim University. Armed with a PhD on Muslim politics in Bihar in the last decade of colonialism, he keeps his eye on Uttar Pradesh and Bihar politics.
He has submitted a research monograph on 'Post-Colonial Bihar Muslims: Their Socio-Economic Diversities and Political Behaviour, 1947-2007.
Sheela Bhatt met Dr Sajjad at AMU, where his life revolves around 32,000 students -- of whom 18,000 students live on the campus itself. Besides, AMU has over 2,500 teachers.
The conversation delved around Muslims's voting patterns and their state of mind in the two northern states on the eve of the general election.
Asked about the mood in Uttar Pradesh, Dr Sajjad feels, "Muslims are shocked after the Samajwadi Party took (former Bharatiya Janata Party chief minister) Kalyan Singh's support. Many Muslims are angry with the SP -- that one factor will shift many Muslim votes to the BSP."
The situation is so negative, he adds, that the SP candidate from Aligarh, Dr Zafar Alam, a respected Muslim businessman, will find it difficult to win. Mainly because Kalyan Singh recently told the media that he had helped Dr Alam get the SP ticket. Some votes from AMU could also go to Congress candidate Bijendra Singh.
Interestingly, the division of Muslim votes may help Sheela Gautam, the BJP's Brahmin candidate. She is the daughter of a wellknown Congressman from the area, the late Mohanlal Gautam, whose statue adorns the main junction in Aligarh.
Analysts usually forget that UP Brahmins give Muslims tough competition in their strategic thinking and voting. Twenty-three percent of Indian Muslims live in UP while Brahmins constitute nine percent of the state's population.
The BJP has a tie-up with Ajit Singh's Rashtriya Lok Dal. If the Brahmin votes shift from the BSP to the Congress or BJP, then the revival of both parties in the state is certain. The Brahmins's shifting of votes is more tactical and influential than how Muslims in UP vote.
In various consituencies, the tough fights are between powerful Muslim and Brahmin candidates. That is why Mayawati has bestowed 21 nominations on Brahmins in the state's 80 constituencies; she has given 14 tickets to Muslims. The BJP has given tickets to 22 Brahmins for the 70 seats that it will contest in the state. The Congress has given 7 Brahmins tickets; the SP 5. The BJP has an advantage in Jat areas because their votes will add strength to the Brahmin votes for party candidates.
When one travels through Ghaziabad, Khurja, Bulandshahar and Aligarh to Pilbhit, one discovers how Muslim voters are confused about their choice. Brahmins, on the other hand, seem cohesive and ready to shift where they smell power.
Says Dr Sajjad, "This highly possible shifting of votes has created an identity crisis among Muslims. They are also disgusted with Ajit Singh's party. A big chunk of Muslims in UP is ready to vote for the Congress only if the Congress candidate becomes winnable by virtue of attracting votes of his own caste or from other upper castes."
"Muslims," he adds, "fear that if they shift their vote to the Congress and the relevant caste doesn't back the Congress and instead sides with the BJP, then their votes will not be instrumental in defeating the BJP. If the BJP votebank remains intact, then the BJP will surely win in spite of their (Muslims) backing the Congress. Muslims feel if the upper castes joins the Congress only then has it some chance of winning with help of Muslim votes."
"Muslims fear that that this time the BJP might win in some Muslim-dominated areas," he continues. "In Aligarh, many Muslim voters say they would have voted for Zafar Alam, but then it is possible that the BJP's Sheela Gautam may win with the help of Brahmin votes. Hamen to Advani ko PM ban ne se rokna hain. Hame to sochna padega (We want to stop Advani from becoming PM so we will have to think thoroughly)."
Dr Sajjad has studied the voters's mood recently in Bihar as well. "Surely, there is churning going on in voters's minds. Poor Muslims are saying, 'Ram Vilas Paswan is getting three seats in Parliament, but manages a ministry for himself. He is blackmailing bigger parties. Why should we give vote to leaders who blackmail? In that case, it is better to vote for the Lotus (the BJP symbol)."
In Bihar, he says, people believe as minister of chemicals, Paswan did not help poor people by controlling the price of medicines. "They say, 'Paswan didn't even make cough syrup cheaper and still he is begging for our votes.'"
"In Bihar, there is clearer vision. Most Muslims do not want to see Advani as the prime minister. They are not upset with (Bihar Chief Minister) Nitish Kumar. They like him. So, they are also thinking about their voting. They know Nitish Kumar's MPs will contribute in making Advani prime minister. But, again, I must add that being anti-BJP does not mean they are pro-Congress," he says.
Interestingly, most Muslims Dr Sajjad spoke to recently feel that Varun Gandhi has not said anything different from what the BJP or RSS (Rashtriya Swayamsevak Sangh) leaders have been saying for years. Also, they think Varun has been introduced to counter Congress General Secretary Rahul Gandhi's growing influence in UP. Some Muslims understand that Varun said what he did in March to win the election in Pilbhit.
If viewed from a different premise, Varun Gandhi has suddenly helped confused Muslim voters. Varun's remarks, Dr Sajjad says, led to the consolidation of Muslim votes.
Precisely for this reason, the Samajwadi Pary may not be wiped out in Muslim-dominated areas. If an SP candidate shows that he can defeat the BJP candidate, then s/he will get Muslim votes. However, BSP supremo Mayawati is best poised to gain from the Varun Gandhi controversy provided her candidates ensure the BJP candidates' defeat.
In UP, Dr Sajjad believes the relationship between Hindus and Muslims is not as good as Bihar because the economic competition is intense. UP's Muslims, he adds, feel a sense of "cultural superiority" over the Muslims of Bihar.
Returning to the Samajwadi Party's association with Kalyan Singh under whose chief ministership the Babri Masjid was demolished in December 1992, Dr Sajjad reminds us that in the 2004 general election, the SP had absorbed the controversial Sakshi Maharaj its fold, and still won handsomely in UP.
This election, the Muslim voters's choice is difficult because their first aim is to defeat the BJP and second, to select the party which will rule the country for the next five years.