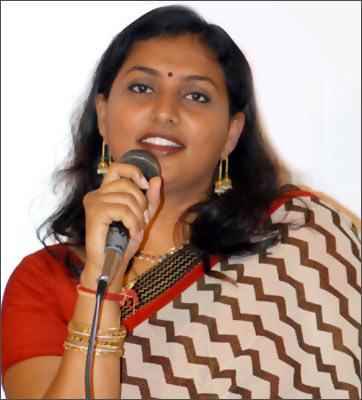 Actress and President of the Telugu Desam Party's women wing, R K Roja, may have to blame only herself if she loses the battle for the Chandragiri assembly seat in Chittoor district, where polling is scheduled for April 23.
For, it is her loose talk that is turning the tide against her, though at the start of the race she was clearly ahead of her rival Aruna Kumari of the Congress. Roja's seemingly never-ending personalised attack on health minister Aruna Kumari and her family seems to have caused an aversion among the electorate as the minister's family has reputation in the region.
This has frittered away the advantage Roja enjoyed and has helped her opponent to regain strength. Besides, Aruna Kumari's son and industrialist Galla Jayadev is undertaking some development work to woo voters for his mother.
Job-creation and empowerment of women and farmers are some of the objectives of the initiative launched by Jayadev.
But Roja seems undeterred. "I had the edge and continue to have it. I shall win Chandragiri comfortably," she told PTI.

Aruna Kumari, however, seems to be facing some internal trouble with a section of the Congress said to be working against her in a game of one-upmanship.
She is seeking re-election for the third time from Chandragiri, while Roja shifted to this constituency from Nagari, where she lost in 2004.
Chandragiri is, in fact, TDP chief N Chandrababu Naidu's home turf from where he won the assembly elections twice before shifting base to Kuppam.
Chandrababu's brother N Ramamurthy Naidu too represented Chandragiri in 1999.
Roja started off as a favourite this time in Chandragiri with Ramamurthy Naidu, who initially staked claim for the seat, throwing his lot behind the women wing leader.
It will be interesting to see whether Roja or Aruna Kumari will have the last laugh.

Reportage: Desaraju Surya | Photograph: Rediff Archives