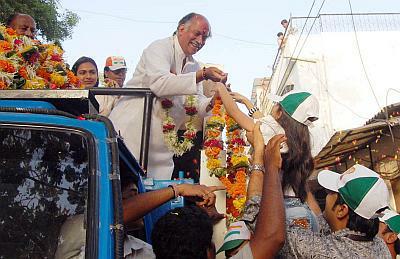 As campaigning for the third phase of polling in Lok Sabha elections came to an end on Tuesday, Gurudas Kamat thanked all his party members and supporters for their support. The Congress candidate from Mumbai North-West was surrounded by his supporters, who greeted him in advance for his anticipated victory.

Rediff.com's Patcy N caught up with Kamat later in the day. Excerpts from the interview:
How have you been campaigning for the election?

I have always believed in padyatra (campaigning on foot), but it is physically impossible to meet every voter. Still I have covered 80 per cent of my constituency. I have been campaigning for 10 hours daily. We also have a website, which has got encouraging response from people. We distribute pamphlets during rallies and also in newspapers that are distributed in my area.
Give me one reason why anyone should vote you?

I have a 25-year track record. I undertook development work in the city, especially in my constituency.

You are from Chembur (an eastern suburb of Mumbai) but your constituency is in the western suburbs. Do you feel like outsider?

Not at all, I have been fortunate enough to have been Mumbai Congress president for five years. I have been going to all the wards that Congress had from past election. I went there to know the people's problems and also was preparing for the election.
There are many first-time voters in this election. How have you been reaching out them?


Around 5,000 people accompany me in every padyatra and a majority of them are youngsters in the age group of 18 to 35. I came into politics from the youth movement and over the years, I have always taken up issues concerning the youth.
What will you do for the youth if you win the election?
In today's scenario, let the youngsters not depend on government jobs or public sector jobs. There are so many avenues opening up, thanks to the various schemes of the central government. It has made education accessible and made funding for education possible; loans are available for new entrepreneurs. We are now world leaders in software and hardware.
But there is still lot of unemployment…
Right now, we are going through a worldwide recession. But we have to be optimistic. India, in spite of this, has had minimum impact of the recession. Even US President Barack Obama has said that there was a time when everybody looked up to US, but today if you have to get an idea as to how anyone should improve their economy we have to look at India and the wisdom of Dr Manmohan Singh.

Why don't we see active youth representation in socio-political activities?

We have a very fair percentage of youngsters in our party. I myself became member of Parliament at the age of 29; I am still young at heart. The Late Rajiv Gandhi set the trend of identifying youngsters and their work. In Mumbai itself, out of five candidates two are young -- Priya Dutt and Milind Deora.

Sanjay Patil from the Nationalist Congress Party is also a youngster. But through rediff.com I would like to appeal to youngsters to take active part in public life. They should not look at public life depending on some caustic comments passed by a leader. There are rotten eggs in every profession, but youngsters need to have positive approach. If more youngsters take part, we will be in a better position to serve the society.
Are you aware of the problems that your constituency has been facing?

The major problems are water and transportation. In 1992, Congress wanted to begin the Mid Vaitarana project, the project would solve the city's water problem. But since the Shiv Sena and BJP had a majority in the Brihanmumbai Municipal Council nothing could be done. But I have revived that plan and work has been started. It will be completed within two years.
Major infrastructure problems have been solved. We have built 16 flyovers, Concretised and widened roads and upgraded trains. We have started work on first phase of the Metro project while the second phase has been sanctioned.

Do you think Samajwadi Party candidate Abu Azmi will eat into your vote bank?

They are trying, but won't succeed. The Samajwadi Party, in recent years, has been working with Shiv Sena in Maharashtra for reasons best known to them. Abu Azmi is a Rajya Sabha MP. There was no need for him to contest the last assembly elections from Bhiwandi. The sitting Congress MP was defeated and Shiv Sena, which would not have dreamt of a victory, got elected there. That showed there was a game plan.
In the last election, Abu Azmi showed assets worth of Rs 8 crore. Today, it is Rs 124 crore. If only Azmi could explain the drastic increase in wealth.

Last time, he made his nephew Naseer Jamal stand for election and said that Abu Azmi aur Naseer Jamal ek hai (Abu Azmi and Naseer Jamal are the same). Yet, he lost his deposit. This is exactly what is going to happen to Abu Azmi this election.

Is it true that the Maharashtra Navnirman Sena was born with help from Congress to divide Shiv Sena's votes?

That is absolutely trash. I have constantly wanted the arrest of Raj Thackeray from day one for his explosive speeches. We insisted on cases being filed against Raj. The judicial process takes time, but I can ensure that justice will be done and he will be in jail one day for his actions.
But the MNS came into limelight when your government was in power. Why didn't you do something then?

In democracy, we have to go by the rule of law. In democracy, everybody has the right to say what they want as long as they are within parameters of law.

Mumbai has a very rich tradition. Over the years, many people have come to the city and they have been welcomed by Marathi-speaking Maharashtrians. We salute them for this. But I agree there have been stray incidents. Every Indian is welcome here as long as they don't stay in unauthorised constructions.

Image: Gurudas Kamat on the campaign trail. Photograph courtesy: Gajanan Ghurye/ggpics.com