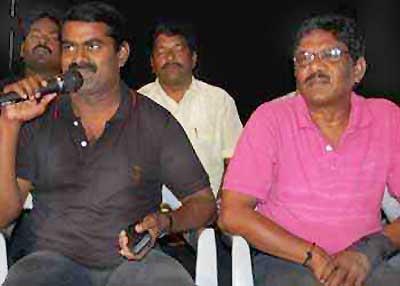 A group of Tamil film personalities, led by eminent director Bharathiraja, have embarked on a whirl wind campaign against the Congress in Tamil Nadu. The group, comprising directors Seeman, Cheran and Ameer and actors Vadivelu, Manivannan and Sundararajan, have been touring across the sixteen Lok Sabha constituencies in Tamil Nadu, where the Congress has fielded its candidates.
Incidentally, Bharathiraja had earlier returned his Padmashree award to mark his protest against the 'atrocities and genocides' committed by the Sri Lankan army on the Tamil civilians in northern Sri Lanka.
The personalities from the Tamil film industry, who kicked off their campaign on May 4, started their tour in Kancheepuram. Their next destination was Erode, where the Congress has fielded senior leader E V K S. Elangovan. The group will also campaign in Salem, Dindigul, Thirumangalam, Virudhunagar, Tenkasi, Theni, Tirunelveli, Mayiladurthurai, Sivaganaga, Karaikudi, Cuddalore and Puducherry, before concentrating on the Lok Sabha constituencies in Chennai.
Incidentally, Union Home Minister Chidambaram is contesting from Sivaganga, while former union minister Mani Shankar Iyer is contesting from Mayiladuthurai constituency.
Addressing a press conference in Chennai, Bharathiraja had claimed that the Congress was the only party in Tamil Nadu which had not taken up the cause of the Tamil civilians in Sri Lanka and accused the party of working against the interests of Tamils in the island nation.
Giving a clean chit to the Congress' ally Dravida Munnettra Kazhagam, the director claimed that the party was merely a victim of circumstances in the drama that the Congress was playing to 'support the genocide in Sri Lanka'.
"We are only targeting the Congress and we do not want to canvass against other alliance parties like the DMK," says Bharathiraja.
Joining in the tirade against the Congress, director Seeman said, "All those parties which are covertly supporting the Sinhala chauvinists against the Tamil people are traitors. They have no place in Tamil Nadu."
Incidentally, Seeman was arrested under the National Security Act by the Tamil Nadu government for his fiery speeches, a few months ago. He was later released on bail by a court order.
The Congress unit in Tamil Nadu has taken this issue to the Election Commission. "The legal cell of the Tamil Nadu Congress Committee has already sent an intimation notice to the Registrar General of Supreme Court to instruct the concerned court to intiate suo moto action against Bharathiraja and others for undertaking propaganda against the Congress candidates and appealing to voters not to vote for our party candidates," says T Guruswamy, secretary of the TNCC's legal wing.
Image: Seeman and Bharathiraja