Chidambaram feels Tamil heat
May 11, 2009 18:12 IST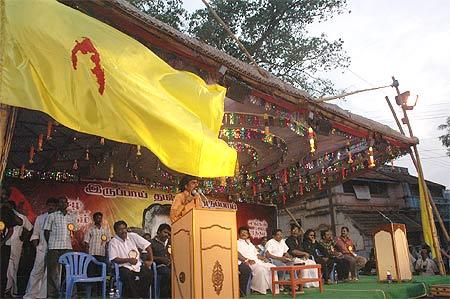 The Sri Lankan turmoil has shaken the Congress-Dravida Munnetra Kazhagam alliance in Tamil Nadu. Nowhere has the issue flared up as much as it has in Sivaganga, Home Minister P Chidambaram's constituency. Krishnakumar P and photographer G K Sundaravalava examine the rage.
Tamil filmmakers Bharatiraja and Seeman, who have been vocal in their support for Sri Lankan Tamils and the demand for a separate nation for the island's Tamils, Eelam, are going all out to derail the Congress in Tamil Nadu.
Like other groups, they are singling out Home Minister Palaniappan Chidambaram for special treatment.
Having decided to organise rallies and raise the Tamil issue in the 16 Lok Sabha constituencies which the Congress will contest this election, the duo led a Kollywood team -- as Chennai's movie industry is dubbed -- to Chidambaram's Lok Sabha constituency on Saturday.
Congress blind to ethnic cleansing
May 11, 2009 18:12 IST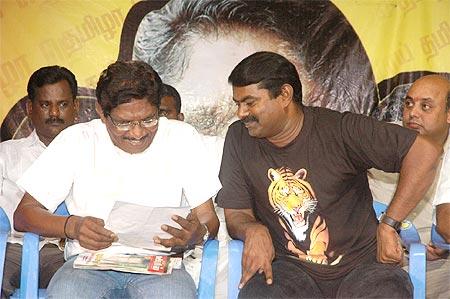 As Bharatiraja took the stage, Congress and DMK workers tried to stall the rally, thus setting the tone for a brutal attack on the home minister.
"We have been speaking at many venues. Why is it that in the Union home minister's home town we are being attacked like this?" the director asked.
He blamed the Congress party for turning a blind eye to the 'ethnic cleansing' in Lanka, and alleged the central government was providing arms and intelligence to the Sri Lankan army.
"People wearing red shirts, green shirts, and black shirts. all of them are angry at what is happening in Lanka. I don't understand how these people wearing khadar (khadi) shirts can be so blind to what is happening there," he said, alluding to the fact that Tamils from different ideologies are united on the issue.
'As revenge for being widowed, she has widowed 2.5 lakh Tamil women'
May 11, 2009 18:12 IST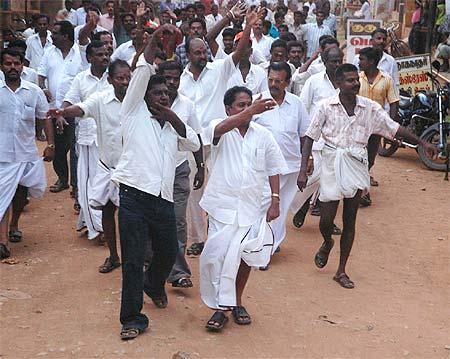 Harsh words were reserved for Congress party president Sonia Gandhi.
"When she started wearing the sari and sporting the sindoor, we thought she had become one among us. But the recent months have proved us wrong. She has just changed the way she dresses."
"As revenge for being widowed, she has widowed 2.5 lakh (250,000) Tamil women. But what else can you expect from a lady who comes from the land of Mussolini?" the director asked.
Alleging that the majority Sinhala community were harassing the Tamils and provoking a grave humanitarian crisis, he said: "The Sinhala people must realise there are 8 crore (80 million) Tamil people in the world. Even if you discount 50 lakh (5 million cowards like those in the Congress, there are 7.5 crore (75 million) people. Even if all these people collectively spit on you, your country will drown."
'I am Prabhakaran's brother'
May 11, 2009 18:12 IST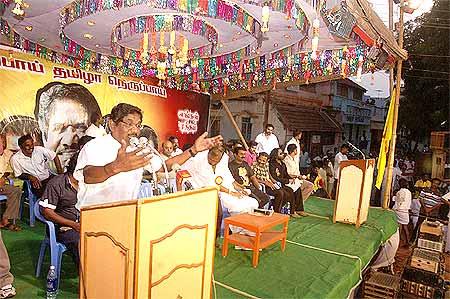 Director Seeman, who has these days taken the mantle of the last speaker, was held under the National Security Act in November for making a speech in support of Liberation Tigers of Tamil Eelam chief V Prabhakaran.
The firebrand, who has cultivated a following for himself these recent months, began his speech with a reference to his term in jail.
"I, the grandson of Periyar (E V Ramasamy Naicker, founder of the Dravidian movement in Tamil Nadu) student of (Karl) Marx and brother of Prabhakaran, have come here to talk about the plight of the Tamil people," he said as the crowd roared in approval.
"I say it again. Brother of Prabhakaran. Only because I said that was I imprisoned under the NSA."
Taking a dig at Chidambaram and other Congress leaders, he asked: "You people in the Congress call someone who has come from 3,000 miles afar ammai (mother). But you have a problem if I call someone who is a mere 30 kilometres away annan (brother)?"
'It is a war between Sonia and Prabhakaran'
May 11, 2009 18:12 IST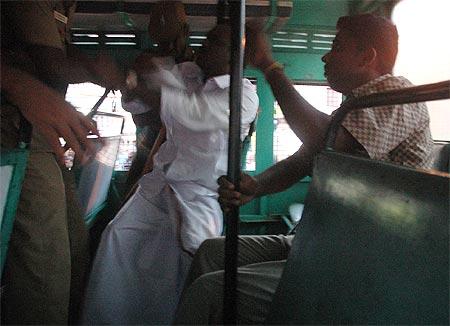 Seeman went on to say that the war in Sri Lanka was not one between the Sinhalese and Tamils. "It is a direct war between Sonia and Prabhakaran," he said.
"Chidambaram must answer why and how India gave Rs 2,000 crore (Rs 2 billion) to Sri Lanka to finish the Tamil resistance," he alleged.
He said India's complicity was evident in the silence that greeted every Lankan statement thanking India for its support.
"When Lankan army chief Sarath Fonseka says the LTTE could not have been finished without valuable support from the Indian government, why is the Indian government silent?" he asked.
'What kind of double talk is this?'
May 11, 2009 18:12 IST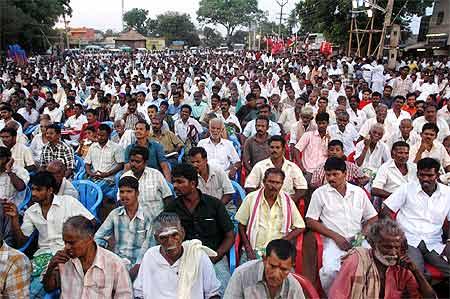 "Till recently, the Congress could afford to keep quiet. But when Rahul Gandhi came to Sivaganga (
on May 8
) he had to take a stand. He said the Congress would explore a political solution. What kind of double talk is this? How can somebody who played an active role in the conflict help find a solution?" Bharatiraja thundered.