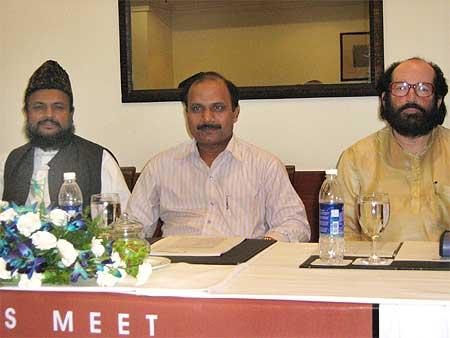 The Uttar Pradesh Muslim Alliance held a press conference in Delhi on Friday in which they said that they had contested over 55 seats all over the county and would certainly triumph in at least ten seats, out of which six would come from Uttar Pradesh.
It was surprising that they called a press conference on Friday and not on Saturday when the results would be known.

The alliance also said that they would support whichever formation which would accept their demands.

Their first demand was to scrap the law that denied reservation to other religions. Muslims should get separate reservation and should not be clubbed together with other backward castes, the alliance claimed.

They also demanded a special package of Rs 25,000 crores for the betterment of Muslims in education, employment and economic development.

Chairman of the alliance M J Khan said that Muslims were tired of being taken for a ride and would now firmly demand their rights. Samajwadi Party chief Mulayam Singh Yadav and UP Chief Minister Mayawati had done nothing for them, they blamed. 

"In 1950, Pandit Nehru had brought in an act by which all those who had converted to Islam or Christianity lost their right to reservation. If the Indian Constitution is secular,  how could they discriminate against Islam and Christianity by denying them the benefits of reservation?" Khan argued.

Khan said that they were ready to support reservations only on the economic criteria,  without caste or religion coming into the picture.

 "More than government formation, we are interested in educating the Muslims about their rights. In UP the Samajwadi Party leaders had admitted that they would lose in at least ten seats because of the canvassing of the Muslim alliance. The BSP (Bahujan Samaj Party) on the other hand had admitted to losing only three seats because of the Muslim alliance," Khan claimed.

"We are not asking for anything new. All we want is the implementation of the recommendation of the Sachar Committee and the Justice R Mishra report," Khan added.

The alliance said that they expected the Congress to form a government at the Centre, and would support it only if their demands were met.
Image: Muslim Alliance press conference