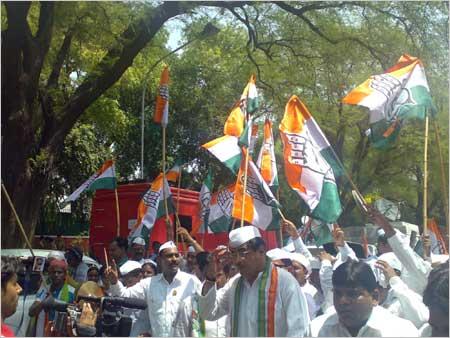 Akbar Road, New Delhi wore a festive look as early as 10.30 AM with Congress workers celebrating the party's good showing in the Lok Sabha elections in front of the party's national headquarters.
The flags fluttered, held high in the air. Chants of Sonia Gandhi zindabad echoed loudly in the air with nearly 500 supporters dancing to the beat of drums.Large cut-outs of Sonia Rahul and Priyanka Gandhi were carried around Akbar road where the Congress office is situated.Women -- young and old -- danced with merry abandon, flashing the victory sign.
A beaming Oscar Fernandes told rediff.com outside the Congress office that he was thrilled but not surprised. He said the result was very much expected. "We will surely cross the magic number and there is no doubt about that," the Congress veteran said.
He also said Lalu Prasad Yadav and Ram Vilas Paswan are with the Congress and will be allies. He said that there were modalities regarding Tamil Nadu to be worked out. Calling Rahul Gandhi as the star for the Congress, Fernandes said the people of India had voted for a clean party.
Meanwhile, celebrations on Akbar Road.are expected to go on late into the night.
Image: Congress workers celebrate at the party headquarters in New Delhi. 
Photograph:  Vicky Nanjappa