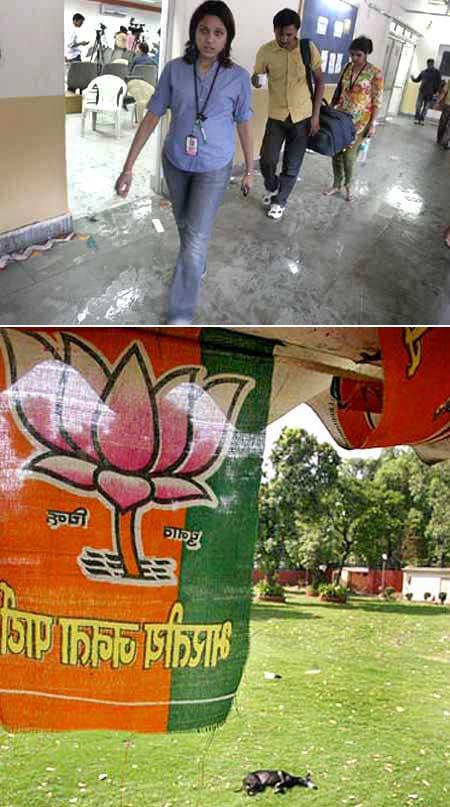 Politics is cruel. The Bharatiya Janata Party headquarters in Delhi wore a desolate look on Saturday as a dog lazily slept on its grounds where enthusiastic crowds would mill around on any election results day.
A pall of gloom descended over the BJP headquarters after the party's dreams of governing India were shattered.
May is an unhappy electoral month for the party. In May 1996, its first-ever government at the Centre resigned after just 13 days in office. Five years ago, the BJP failed to win re-election despite its India Shining campaign.
Interestingly, May was also the month the party chose to conduct nuclear tests, 11 years ago.
The ennui and party's Bharatiya Janata Party's comprehensive defeat in the Lok Sabha polls in 2009 was reflected in the BJP headquarters at 11 Ashoka Road in New Delhi.
Not only was the sprawling place uninhabited -- except for the mandatory media, police security and a handful (literally) of shattered workers -- it was also, as the accompanying picture shows, quite filthy.
Water and garbage had spewed around the media centre, making for a filthy mess without anyone to clear it. BJP secretary Arun Jaitley had to walk over this mess to reach the stage, from where he later addressed the press conference.
It was a huge contrast to the celebratory mode and the choc-a-block packed headquarters when the BJP won the election in 1999.
Text: Savera Someshwar | Photographs: Rajesh Karkera