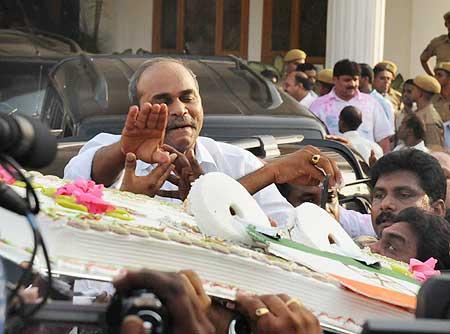 Andhra Pradesh Chief Minister Y S Rajasekhara Reddy on Saturday hailed the emphatic victory of the Congress in the Lok Sabha and assembly elections as the 'victory of the people' and promised to carry on with the sincere and hard work for the welfare of the people and development of the state.
 
Addressing a crowded press conference, Reddy said after the 2004 elections, some people had claimed that it was not a victory for the Congress but one for its allies.
"But this time, there was not a single political party with us. We had alliances only with the people. Ours was the people's front," he said.
 
Dismissing the idea that the 'YSR factor' had helped the party in AP, he said the people had responded positively as they were happy with the sincere and hard work done by his government. 
 
Reddy added that the people's faith and trust in the leadership of Sonia and Prime Minister Manmohan Singh played a crucial role in the victory of the party. "We had provided a down-to-earth administration. It was because of our sincerity and commitment that God had also showered its grace on us and we got good rains for all the five years".
 
"People have supported the Congress party because they want an able leader and economist like Manmohan Singh to continue to lead the country through the troubled times of economic slowdown. They were happy with the way the Manmohan Singh government shielded India from the fall-out of the recession at the international level," he claimed.
 
He said that the performance of Congress was not as good in the assembly elections as it was in the Lok Sabha because of the local issues and problems.
 
He pointed out that the people had not been lured by Telugu Desam Party chief N Chandrababu Naidu's poll promises like cash transfer and the free colour television sets. "Between the discredited opposition and a credible government, the people chose the latter," he said.
 
The Congress legislature party meeting will be held in Hyderabad on May 19, in which YS Rajasekhara Reddy was likely to be elected as the leader. His new government will be sworn in at a public ceremony at the Lalbahadur Stadium. He was administered the oath of office at the same venue in May 2004.
Image: Andhra Pradesh Chief Minister Y S Rajasekhara Reddy with his supporters on Saturday | Photograph: SnapsIndia