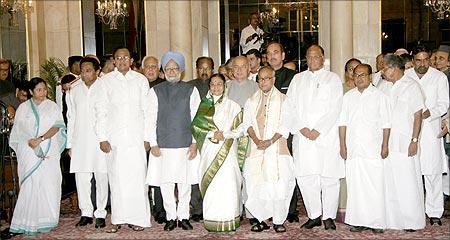 Manmohan Singh was on Friday sworn in as Prime Minister for a second term along with 19 other Cabinet ministers including new entrants S M Krishna [ Images ] and Mamata Banerjee [ Images ] but Arjun Singh [ Images ], H R Bhardwaj and two other senior ministers of the previous Cabinet have been excluded.
In the first instalment of the new UPA Cabinet after the coalition's victory in the Lok Sabha elections, the 76-year-old economist-politician took oath of office and secrecy at the Rashtrapati Bhawan along with senior members of his previous team, Pranab Mukherjee [ Images ], P Chidambaram [ Images ], Sharad Pawar [ Images ] and A K Antony.
The 19 ministers, all of Cabinet rank, include Ghulam Nabi Azad [ Images ], Veerappa Moily [ Images ], new entrant Rajasthan [ Images ] PCC chief C P Joshi and Anand Sharma and B K Handique, who were promoted from the previous ministry.

Others inducted were S Jaipal Reddy [ Images ], Kamal Nath, Vayalar Ravi, Meira Kumar [ Images ], Murli Deora, Kapil Sibal [ Images ], Ambika Soni and Sushil Kumar [ Images ] Shinde.
Failure of negotiations with southern ally, DMK, over the number of slots and portfolios resulted in only 19 ministers taking oath from President Pratibha Patil [ Images ]. Another group of ministers, probably a larger one, is expected to be sworn-in on Tuesday next.
The portfolios of the ministers would be announced in the next two or three days, according to the Prime Minister who voiced the hope that DMK would accept the offer made to it by the UPA.
Krishna, a former Karnataka [ Images ] Chief Minister and a surprise inclusion, is widely to be tipped to be the new External Affairs Minister, a charge now held by Pranab Mukherjee, who is likely to take full charge of Finance.
While Chidambaram is expected to retain Home, to which he was shifted in the wake of the Mumbai [ Images ] terror attack, Antony may continue in Defence. Kamal Nath may also retain Commerce and Industry.
The absence of Bhardwaj -- unless he figures in the next list--has fuelled speculation that Sibal, an eminent lawyer, could be the new Law Minister while reports earlier spoke of his taking over as the HRD Minister.
Veerappa Moily, who as Chairman of the Administrative Reforms Commission had produced voluminous reports and has authored some books, is tipped to be the new HRD Minister in place of the ageing Arjun Singh.

Ally Trinamool Congress [ Images ] chief Mamta Banerjee may be given the Railways, a portfolio held by Lalu Prasad, who has now been kept out of the government after his decision to fight Congress in Bihar.

Azad, not exactly a new face in the Union government, may get Parliamentary in addition to another portfolio.
Vayalar Ravi and Meira Kumar may continue in Overseas Indian Affairs and Social Justice respectively. Joshi is expected to be given Rural Development.

Image: President Pratibha Patil poses with Prime Minister Manmohan Singh [ Images ] and members of his cabinet after the swearing in ceremony
Photograph: Jay Mandal