Fifth and last phase of LS elections witnesses 62 per cent polling
May 13, 2009 21:38 IST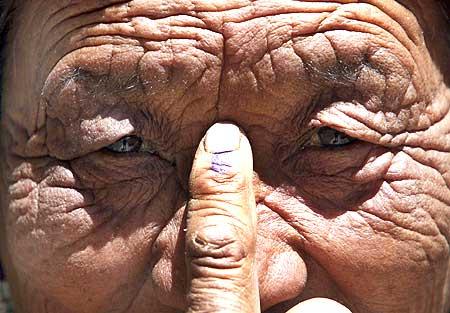 An estimated 62 per cent of the electorate on Wednesday exercised their franchise in the fifth and final phase of polling in Lok Sabha elections, bringing down the curtain on the month-long democratic exercise, the longest in the world.
Reportage: PTI
60 per cent polling in Tamil Nadu
May 13, 2009 21:38 IST
An estimated 60 percent of the 4.16 crore electorate voted in the single phase Lok Sabha elections in Tamil Nadu on Wednesday which was marred by a fatal stabbing incident and stray incidents of skirmishes.
A Dravida Munnetra Kazhagam local functionary was stabbed to death near a polling booth at Pappanampatti in Dindigul Lok Sabha constituency by a former associate, police said but maintained the incident was due to previous enmity and not poll-related.
In neighbouring Puducherry, 80 percent polling was recorded for the lone Lok Sabha seat. Yanam, an enclave of the Union Territory, polled highest with 92 percent.
1.16 crore electors in Punjab chose between 139 candidates
May 13, 2009 21:38 IST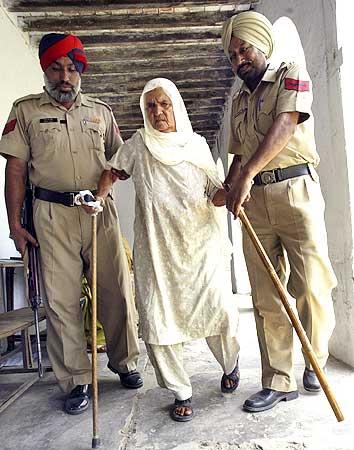 An estimated over 66 per cent of total 1.16 crore electors exercised their franchise, sealing the fate of 139 candidates for the nine Lok Sabha seats in Punjab, the polling to which was peaceful barring sporadic incidents of violence and minor skirmishes in which 18 activists of different political outfits were injured, including ten of the Congress.
Barring minor clashes at a few places the polling in the state remained "very peaceful" with no major untoward incident reported, Punjab's Chief Electoral Officer Kusumjit Sidhu told media persons after culmination of the poll exercise. The polling percentage of 66 per cent is higher as compared to 61.59 per cent polling in the 2004 Lok Sabha poll.
Violence marks last phase polls in Jammu & Kashmir
May 13, 2009 21:38 IST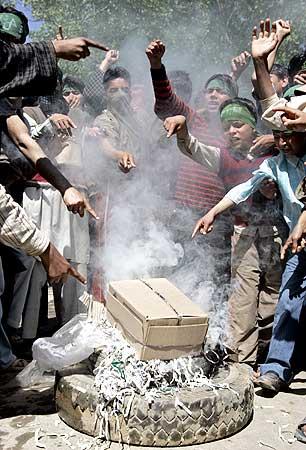 At least 12 persons including a Zonal Magistrate were injured as violence marked the end of polling on Wednesday in Jammu and Kashmir where an estimated 42 per cent of the electorate cast their votes in Baramulla and Ladakh constituencies in the fifth phase, defying a poll boycott call by the separatists.
Two of the injured were hit by bullets at Dooru in Sopore, 55 kms from Ladakh, when a Central Reserve Police Force personnel allegedly opened fire after a group of youth, shouting anti-election slogans, pelted stones on a poll party returning from Pazalpora-Shiva area on Wednesday evening, the sources said.
Groups of youth also pelted stones on poll parties returning from duty in Baramulla's old town area, prompting the police to fire teargas shells and use batons which left five persons injured, they said.
Final phase of LS poll ends peacefully in WB
May 13, 2009 21:38 IST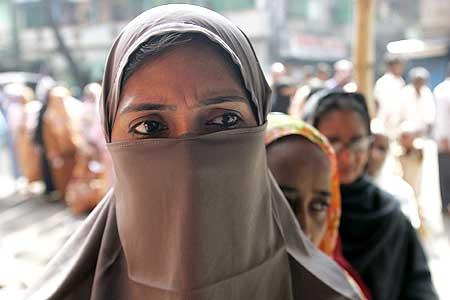 The third and final phase of the Lok Sabha polls in 11 of the 42 Lok Sabha constituencies in West Bengal on Wednesday saw a voter turnout of 70 per cent and passed off, by and large, peacefully.
The fate of 100 candidates, including that of Trinamool Congress chief Mamata Banerjee from Kolkata South, former union minister and Bharatiya Janata Party candidate Tapan Sikdar from Dum Dum and Communist Party of India-Marxist candidate Amitava Nandy in the same seat were sealed in the Electronic Voting Machines.
Chief Electoral Officer Debasish Sen said the percentage would go up as long queues were reported in front of many polling booths towards the end of polling hours.
A CPI-M local leader was shot dead allegedly by Trinamool Congress supporters in Joynagar (SC) Lok Sabha constituency in South 24-Parganas district, while 14 persons were injured in clashes in North 24-Parganas and South 24-Parganas districts.
The police said Zainal Mollah was shot at Narayanpur in South 24-Parganas district and succumbed to injuries in hospital. A voter was killed and two others injured when a vehicle carrying polling personnel, ploughed through them at Kalyani in Nadia district, the CEO said.
Though there was no provision in election rules for payment of compensation, the Commission would ensure expeditious insurance compensation for the victims, he said.