Congress leaders celebrate victory
May 16, 2009 19:17 IST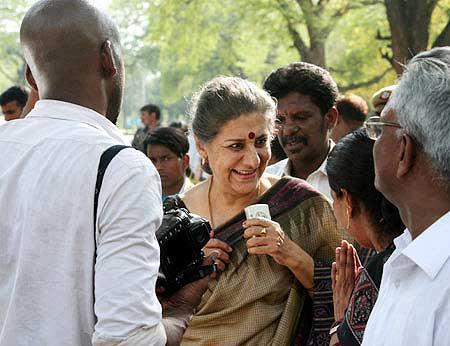 Hundreds of Congress supporters thronged the party headquarters in New Delhi by Saturday evening.
The mood was jubilant and upbeat.
Congress leaders like Ambika Soni had stationed themselves at the party HQ since the morning, briefing the media about the unfolding situation.
Impressions: Syed Firdaus Ashraf, Vicky Nanjappa
The drum beats of victory
May 16, 2009 19:17 IST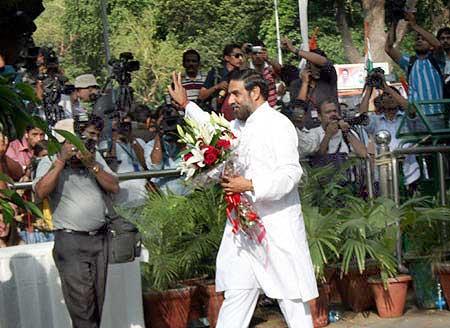 Slogans saluting Sonia and Rahul Gandhi rent the air amidst drum beats and dancing on the streets.
The Delhi police had blocked roads since the morning to control the sea of people making their way to the Congress HQ.
An unexpected triumph
May 16, 2009 19:17 IST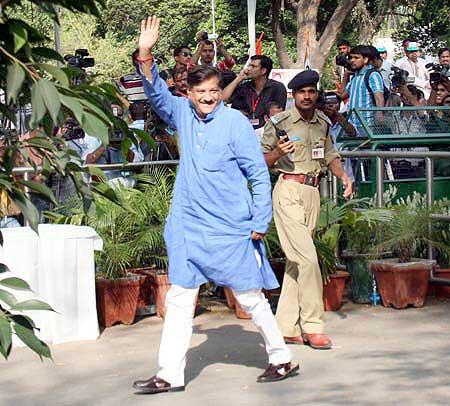 Several newly elected MPs arrived at the party headquarters and then moved to 10, Janpath, Congress President Sonia Gandhi's home.
By the evening Congress leaders like Prithviraj Chauhan, Kamal Nath and Anand Sharma turned up to meet their leader and enjoy their moment of triumph.
The mobile phones of senior Congress leaders rang non-stop and many could not believe that the party had won most unexpected seats.
Remember the Gandhi topi?
May 16, 2009 19:17 IST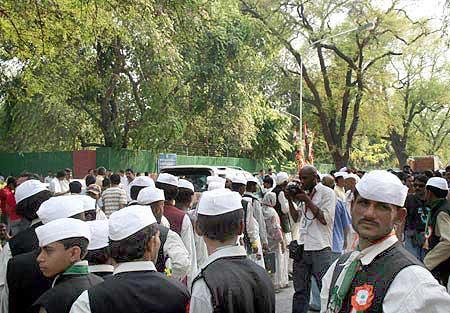 The Gandhi
topi
and khadi kurta pyjamas made a comeback on Saturday. The
topi
had been conspicuously absent this election campaign.
Some party workers wore T-shirts with Congress General Secretary Rahul Gandhi's photograph on it; some arrived, children in tow, clearly eager to savour victory.
North India provides an unexpected boost
May 16, 2009 19:17 IST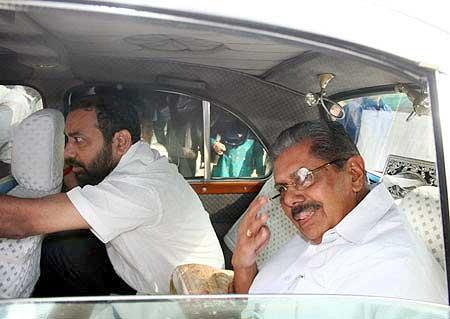 The party made unexpected gains in an old bastion, Uttar Pradesh, and swept the BJP aside in Rajasthan.
Even in Madhya Pradesh, where it was supposed to win only Kamal Nath's Chhindwara and Jyotiraditya Scindia's Guna seats, the Congress produced a surprisingly strong show.
F-i-v-e M-o-r-e Y-e-a-r-s!
May 16, 2009 19:17 IST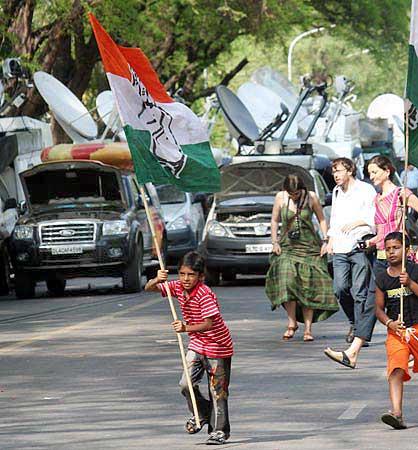 "Our struggle to be better will go on," says Congress General Secretary Digvijay Singh.
"Our next challenge would be the assembly elections in different states," the former Madhya Pradesh chief minister added.
For many Congressmen, it was like a symphony to their ears to know that their party will rule India for the next five years.