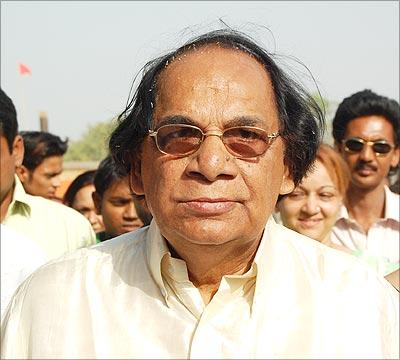 Election fever reached its peak on April 27, the penultimate day of campaigning in Malda, where the election will be held on April 30. Both the Left Front and the Congress-Trinamool alliance were out to make the most of the last two days of battle.
rediff.com's Indrani Mitra Roy spoke to Congress MP Abu Hashem Khan Chaudhury as he traveled to Kaliachowk helipad to receive Congress leader Pranab Mukherjee.
The younger brother of the late Union minister A B A Ghani Khan Choudhury, he became an MP following Ghani Khan's death in 2006. Ghani Khan won the Malda seat six times in a row, from 1980 to 2004.
A lot is being said about the Congress-Trinamool Congress alliance in West Bengal. While your detractors ridicule it as a marriage of convenience, even some of your supporters are sceptical about it. What led to this alliance?
I would say people of this state spearheaded this movement. For long, there has been no viable opposition in the state and the people are seething with discontent.
The Congress-Trinamool alliance was born out of this discontent. It would be wrong to suppose that the decision was taken by the two parties alone.
On hears that initially there was some misunderstanding between the two parties on seat-sharing. There had been some issues in the past as well during your brother's time...
It is but natural. Seat-sharing is a serious business during elections. This time the issue was resolved soon and now none of the parties has any grievance, whatsoever. We all are friends now (smiles).
During your election campaign, you often mentioned that the people of this state are desperate for a change.
If you travel across the state, you can see for yourself that everybody is seeking a change in governance. Each and every resident of West Bengal is unhappy with the Left Front rule.
Be it health, education, infrastructure, employment, the Left's performance has been far from satisfactory. Therefore, people are looking for change. They want better rulers.
Don't you think the Nano project's exit from Bengal will have a negative impact on the Trinamool vote bank?
Not at all. People are no fools. During the Left regime, more than 60,000 small and medium industries were shut. Why did not the Left do anything to resuscitate them?
Have they ever thought what happened to the workers of all those industries? How many of those workers and their families died of starvation? Does the Left Front have any statistics? They don't.
Therefore, instead of questioning the Trinamool, the people of Bengal should ask the Left instead why they were being so over-enthusiastic about the Singur factory.
Communism has ceased to exist in Bengal. The Left is practising the worst form of capitalism under the garb of Marxism.
What about West Bengal Chief Minister Buddhadeb Bhattacharjee?
He has failed miserably both as the party head as well as the chief minister. He has dashed every hope of progress. It is under his leadership that his party started functioning as a rudderless ship swaying helplessly in the strong wind of opposition. His image is tarnished beyond repair.
What do you feel led to all this? Was it Nandigram?
I would say the Nandigram incident put the last nail into the Left's coffin. What happened there can put any democracy to shame. However, a process of 'image-ruining' started long back. Power thoroughly corrupted the Left. They thought they can get away with everything.
They forgot that they were a part of the world's biggest democracy. They threw all political ethics out of the window.
Who, according to you will make a better chief minister?
Mamata Banerjee, of course. There are no ifs and buts, Banerjee is going to be the next chief minister of this state. The Communist Party of India-Marxist will be routed in the next assembly election and Banerjee will head the state in 2011. This is not what I want, this is the people's verdict.
But criticism have often been hurled at her idiosyncrasies...
Those (idiosyncrasies) are her modus operandi. Every politician has a particular method of functioning. No matter, what she does and how she does it, people have started seeing faith in her. They have started visualising her as the next chief minister of Bengal.
Your detractors are of the opinion that you did not have to work hard to win -- your brother's popularity helped you win the election...
(Smiles). Let them say whatever. I believe in the simple political maxim: you cannot fool the people for long. Let the people decide if I am capable or not. Let's not take any inane statement seriously.
Do you think this election's results will tilt in the Congress's favour at the Centre?
I have no doubt about it. Show me another political party which has more credibility than the Congress. As I said earlier, people are no fools. They know the best which political party to vote for and why.
Apart from the Congress, there is no other viable political party that can run the government.
Photograph: Dipak Chakraborty