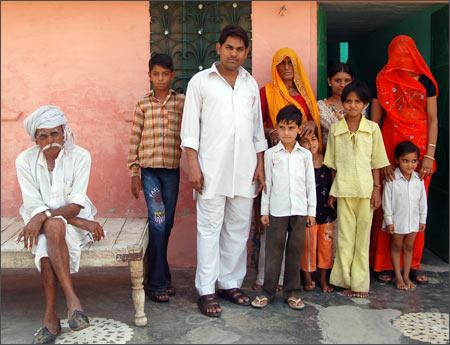 The fact that Raju Lal Meena's is the only Meena family in Tonk's Jhilai
gram panchayat
is no cause of worry for him. His ancestors tilled the family farms for centuries without fearing the Gujjars, who outnumber the Meenas in this Rajasthan village.
The Gujjars and Meenas are numerically large communities in Rajasthan, constantly jousting for a share of the caste goodies pie.
Jhilai has not seen tension between the Meenas and Gujjars. "The only tension that arises here is between the Gujjars and the Nhais (the barber community), who compete with each other whenever a liquor shop contract is up for grabs," says Raju Meena.
Last year's Gujjar agitation demanding scheduled tribe status and the subsequent tensions with the Meenas, who already enjoy that privilege, did not provoke the Meena family from selling their assets in Jhilai and moving elsewhere.
Raju Meena, his parents, wife, his two brothers and their wives along with their children own eight acres of land, where they grow wheat, jowar, bajra, groundnut and mustard. For the last seven years, their profits from farming have declined due to lack of adequate irrigation facilities.
"Water is a big issue in Jhilai as we don't have any water conservation plan in place," he says.
"We have to hire labour from neighbouring Niwai, and that increases the cost of cultivating the land," he adds.
Jhilai has a high unemployment rate of between 30 to 40 per cent, which is evident from the number of young villagers who throng Raju Meena's shop in the main market to watch the IPL matches in the scorching afternoon heat.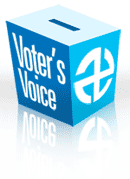 Raju Meena is confident that the lot of Jhilai's farmers will improve if the Congress's Namo Narayan Meena is elected from the Tonk-Sawaimadhopur Lok Sabha seat. He too will vote for the Congress on May 7, like most of his friends in Jhilai, and not because the party's candidate is from his Meena community.
Contesting aginst Namo Narayan Meena is the Bharatiya Janata Party's new-found Gujjar hero, Colonel Kirori Singh Bainsla, who led the Gujjar agitation last year, ironically when a BJP government was in power in Rajasthan. Then chief minister Vasundhara Raje was accused of mishandling the situation, which led to 26 Gujjars dying in police firing.
"Namo Narayan Meena has promised us big employment opportunities if we elect him from here," says a hopeful Raju Meena, who also runs a mobile communications shop where he sells handsets and refill vouchers of various telecom companies. His elder brother is a trader while the younger one is a radio technician.
"Both candidates have a 50:50 chance," he says. "But be sure that the nine votes in our family will go to Namo Narayan Meena."
Image: From left, Raju Meena's father, Raju, his mother, his sister (hidden behind the girl in the yellow dress) and his wife. Text, photograph: Prasanna D Zore