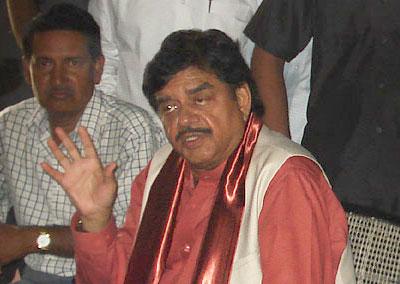 One of the first film stars to join Indian politics,
Shatrughan Sinha
has just fought a crucial battle to win the Patna Saheb seat against television star Shekhar Suman.
The flamboyant Sinha, who featured in some smashing roles in the 1970s like Kala Patthar and Kalicharan, joined the Bharatiya Janata Party 20 years and served as a Cabinet minister in the Vajpayee government.
Having lost his first race for the Lok Sabha to actor Rajesh Khanna in 1991, the actor-turned politician has been using his filmi dialogues and his political commitment to woo voters in his home town, Patna.
He spoke to rediff.com's Archana Masih about his politics and why most film star MPs had turned out to be failed politicans.
Has the star experiment failed? Look at Dharmendra, Govinda, Vinod Khanna -- barring Sunil Dutt, do you think any stars have been successful?
Only stars cannot be blamed for that. What about we people? Many top leaders, cutting across party lines, are unable to gather crowds. So they give lollipops to the stars and stars are more than willing to come.
But having these stars does not translate into votes because film stars do not know the subject, they have not struggled, have no direct rapport with the people, they are not (political) role models.
I must say it is also the fault of the party. They must prepare, educate and counsel the stars, but they use them misuse them and abuse them. They take them around the country wherever they can and when they come to power, they say 'My god, no one takes them seriously!'
The credit for the losses goes to the stars, the credit of victory they take upon themselves. Stars are good, they can get you crowds.
You were talking about Sunil Dutt...
Mr Sunil Dutt became a Cabinet minister after me, even though he deserved it more than me and should have been the first one. He was a role model to me and a wonderful man and leader.
I do anti-tobacco, anti drugs, anti cancer campaigns inspired by Sunil Dutt. He was like an elder brother. When I became health minister, he was the first one to come and congratulate me.
I told him, 'Duttsaab, you should have been made Cabinet minister first, not me.' He said, 'Nevertheless, I feel so happy and proud of you.'
Sunil Dutt struggled a lot, he had a track record. These stars of today get carried away with the euphoria. I remember a very famous and beautiful heroine from south India who was campaigning for her now late father. I read a six column news report in every newspaper about the highway being jammed because people had come to see her, but what happened eventually was that her late father even lost his deposit.
People came, admired the heroine -- saw her, kaano ki baali, gaalon ki laali, Bengal ki sari (Her earrings, her beauty, her sari) and went away.
Some stars have ridiculed themselves, have made fun of the system. Stars and leaders of parties are equally to be blamed.
Film celebrities seems to have an attraction for politics...
Many celebrities tend to come to politics because they feel glamour has limited power, whereas power has unlimited glamour. And this is the reason they sometimes get disillusioned very fast or are not taken seriously, hence not taken seriously by people.
You have to struggle, learn, work -- that is what I've been trying. There are celebrities who join the Congress in the morning, NCP (Nationalist Congress Party) at noon and BJP in the evening!
You call your main opponent here (television actor Shekhar Suman, the Congress candidate) your younger brother, what are your thoughts on him since both of you come from the entertainment district in Mumbai?
My relationship with the Patna Saheb Congress candidate is very cordial and affectionate. He is like a younger brother, but I was told till the last minute he was trying for the BJP. He was seen with (BJP prime ministerial candidate) Mr Advani, praising (former prime minister Atal Bihari) Vajpayeeji, he was seen campaigning for (Gujarat Chief Minister) Narendra Modi, and was also at his swearing-in ceremony.
All of a sudden he calls us communal and becomes secular overnight -- all I can say is best of luck, god bless you.
You have been with the BJP for two decades, but it has been a long wait for you in getting an important role in the party. Don't you think you haven't been taken seriously and haven't got your due?
I was given a commitment that I could fight from any seat in the country, that way I feel fortunate.
About whether I haven't got my due because of my seniority and commitment I would say it is how we look at the glass -- half full or half empty. I see it as half full.
Those who see the glass half empty should know that even God does not have 100 per cent satisfaction and popularity. Satisfaction and popularity are always questionable, you do not have 100 per cent following or 100 per cent satisfaction.
Whatever I have gained, I feel very humbly about it.
You have said that you come to Patna 20, even 30 times a year -- that you're connected with your janambhoomi. What plans do you have for this city if you were to win?
I have struggled in my socio-political life. I have been born, brought up and educated in Patna. When the time came for election, I thought the logical thing was to fight from the Patna Saheb seat, so I came here.
My agenda is based on four Ps -- peace, prosperity, progress and pride. In one word -- my agenda is development.
Bihar was once the best administered state and today happens to be not compared to what it was. It has in fact slipped down in terms of poverty, development, administration and law and order.
But there has been a great improvement after Nitish Kumar has taken over (as chief minister), law and order has improved and development is taking place under the NDA (National Democratic Alliance) government. A miracle can't happen overnight, but lots is happening.
You mentioned pride, what are you going to do to restore Bihar and its people the respect and pride?
Let us not forget that the people from Bihar and north India -- its intellectuals and professionals lead not only in India, but around the world.
The best of doctors, bureaucrats, professionals come from Bihar. We have the talent and very hardworking people, look at our labourers, our farmers, they are in great demand in Haryana and Punjab because of their hard work.
The people of Bihar are very self respecting. They go work and do well in their respective fields. You will not see Biharis begging outside the state.
Bihar has been lacking because of weak leadership, lack of quality in leadership and vested interest. At one point it looked as if there could not be any change in Bihar or it could not go down any further or it had hit rock bottom, they would say.
But today a reverse gear has taken place, almost a U-turn. Nitish Kumar has done lots in the education, health and development sector. India's first haemophilia hospital has come up in Bihar, of course, I have also contributed to that.
So when we come together with dedication and work instead of criticising it in the drawing room or at cocktail politics, if we are united under the correct leadership, I am sure that day is not far.
Like you said, people from Bihar excel when they go outside the state, why does that not happen within the state?
Because of poor infrastructure and that's what we are trying to build now. Over the years, our students who have gone out of the state have done very well.
Even you and your opponent Shekhar Suman made a name and earned fame outside.
Yes, but our case is different because we didn't have any infrastructure. The film industry was in Mumbai. I have submitted a state-of-the-art film city project to the Bihar government 2, 3 years back. This will be a platform for the talented people from theatre, media, vocational artists and generate employment.
Another issue that dogs Bihar is the stranglehold of caste. Do you see any change coming?
People here don't cast their vote, they vote their caste. Still there is a long way to go but it's coming on the track. People have to rise above caste, creed and religion.
Do you perceive any change in attitude towards these caste affiliations, do you think people can break out of it?
Yes, I do see a change in terms of certain individuals. In terms of certain able, respectable people, I see things have changed.
Though I am no match or patch on Jayaprakash Narayan, I can't be compared to him in any way. He was a saint -- but after him I am fortunate to be the only one who cuts across party lines, who is accepted, respected by all.
People think of me as their Bihari babu -- Mr Bihar. It unites them and cuts across caste.
Yes it's taking time, why should it only happen to some individuals like me. Education, counseling and role models can help change that. Slowly and surely, we will get there.
You were an outsider to politics and have spent 20 years with the BJP. For an actor how difficult was it to adapt to Indian politics?
I was the first from the all India film industry to join politics under my social obligation because I was inspired by Jayaprakash Narayan. I wanted to contribute to society which made me and makes the country.
I had the option, but I came to politics via the Opposition. Nowadays they (celebrities) join the ruling party or when they feel a party is about to come to power.
I was the only one to join the BJP when it was in the Opposition with only two seats in the Centre. People laughed at me and said the BJP will never come to power. Of course it did, I became health minister and then shipping minister.
I learnt through Jayaprakash Narayan, Vajpayeeji, Advaniji that our medium is to serve people, not to mint money.
People may disagree with me, but there has been no allegation against me so far in my social, professional, married or political life.
If you do win, how much of your victory will depend on Nitish Kumar's performance as chief minister?
After all, I am a candidate of Nitish Kumar, of the BJP and of the NDA. This constituency is the capital of Bihar. The victory should be turned into strengthening the hands of Mr Nitish Kumar. This will also strengthen the BJP-NDA and Mr Advani as PM so that progress in the right direction.
Nitish Kumar's intention and policies are good and very constructive. He is one of the few chief ministers today who is seen as a working CM. He is focused and hard working. If he is benefiting the people, I am sure socially and politically it will benefit me also.
Photograph: Seema Pant