In search of greener pastures
May 12, 2009 17:15 IST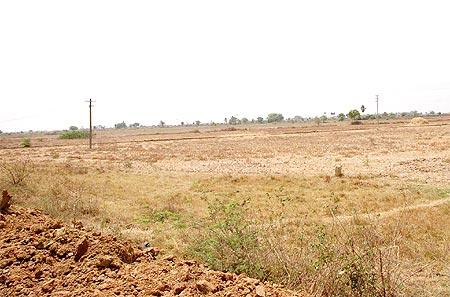 Life on the outskirts of a big city can be strikingly different. Shobha Warrier and photographer Sreeram Selvaraj drive to Tiruvallur constituency outside Chennai to experience their lives.
The picture says it all. Thirty kilometres to the north from Chennai lies the Tiruvallur constituency.
Compared to Chennai, the difference is hard to miss. Underdeveloped and sleepy, the constituency is crying for attention -- and development. Once home to palmy farmlands, it is tough to spot a tinge of green now.
Post-delimitation, the new reserved Tiruvallur constituency was formed, merging many assembly segments from North Chennai and Sriperumbudur.
'Have they done anything for us in return for our votes?'
May 12, 2009 17:15 IST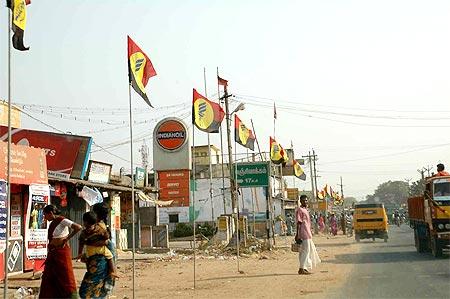 The constituency, with an electorate of 1,201,064 voters, is dominated by farmers. There are also fishermen in the Pulicat area and a considerable number of Vanniyars engaged in trade.
Traditionally a Dravida Munnetra Kazhagam citadel, Tiruvallur has the DMK's Gayathri Sridharan, the All India Anna Dravida Munnetra Kazhagam's Dr P Venugopal and the Desiya Murppokku Dravida Kazhagam party's R Suresh in the fray.
Political apathy is evident: most voters don't know their candidates.
The farmers, once loyal to the DMK, are disgruntled. More than anything, the price rise has led to disenchantment.
"Have they done anything for us in return for our votes? Nothing. Why should we vote for such people?" was the general mood.
'We have to get rid of our hunger'
May 12, 2009 17:15 IST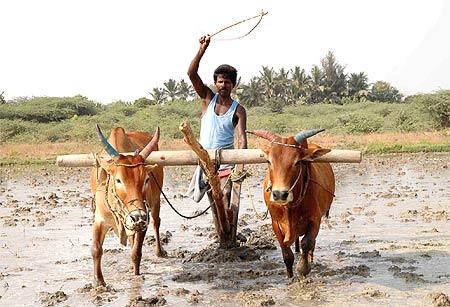 The problems faced by farmers and fishermen are almost the same: Price rise, lack of water, electricity, paved roads, schools and hospitals.
The majestic Chennai-Kolkata highway passes through the village, but off the highway there are no proper roads.
We spot a green patch with paddy swaying gently in the breeze and a farmer ploughing a small piece of land. Like most farmers, Muthu's life has been tough, especially in the last couple of years.
"There are not many farm lands in these areas. Land owners are not interested in farming as they think it is not viable. The sufferers are poor people like us. Everything is so expensive that it is difficult to even buy enough rice for the children at home. How can we buy rice for Rs 30? We eat the Re 1 rice the government gives. It is not edible. We have to get rid of our hunger."
'It is not viable to be a farmer today'
May 12, 2009 17:15 IST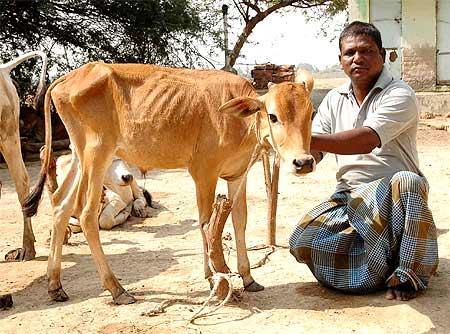 Most landowners here are Telugu-speakers as Tiruvallur shares a border with Andhra Pradesh.
Even landowners like Jayachandra Naidu are worried. Rising wages and poor returns from agriculture have forced them to either sell their land. Naidu has turned his land into a godown that stores material meant for Ennore port.
"What has the government done for agriculture? All of us feel that agriculture is the last priority for this government. Only when we have to import food will they think about farming. A few years ago, the area was full of paddy. Today, can you see greenery anywhere? Seeds, fertilisers and wages are all expensive."
"It is not viable to be a farmer today," says Naidu. "I get more returns from the godown I have rented out."
'No politician has ever come here'
May 12, 2009 17:15 IST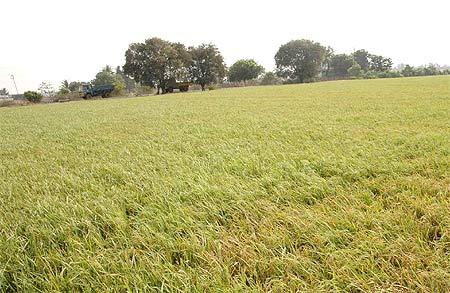 We are now in Naaloor, home to at least 7,000 people.
"Most men work in factories or godowns. Some commute to Ennore and Chennai to work. If we need work, we have to travel that far. There is no employment," says Jayachandran.
It is not farming that helps him lead a better life; it's videography. Jayachandran is one of the few graduates in Naaloor.
"My father understood the value of education, so he educated me and my brother. Our wives are also graduates. That is the only reason why we lead a better life today. No politician has ever come here or bothered to do something for the village. Let them at least provide water, roads, electricity, a good school, college. Today, we have to go to Chennai if we want to study in a college."
"No government can justify this kind of price rise," he says. "Is there a rise in our earnings? Now a major portion of our earnings is spent on food. We have not been able to save anything."
'I am fed up of politicians and elections'
May 12, 2009 17:15 IST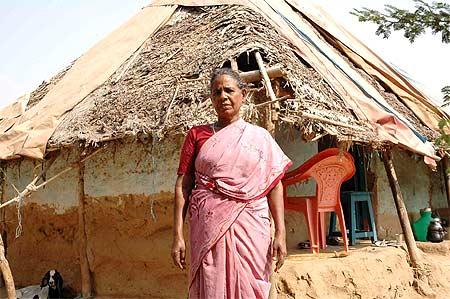 Jayachandran's illiterate neighbour Soosamani -- who lives in a hut-- is not as lucky.
Her hut does not have a proper thatched roof, and she doesn't have the money to change the damaged roof.
"When I don't have money to feed my children, how do you expect me to repair my house? Prices of food items have sky-rocketed and life has become tough. What elections? I am fed up of politicians and elections."
Rugmanathan has been witnessing the changes in the village.
"When I was young, we could see only greenery everywhere. The entire village would do farming. Today, there is no agriculture and only a few farmers exist. Most men from the village work in godowns, but is it anything like a government job? There is no guarantee that you have the job tomorrow."
The MGR factor still works
May 12, 2009 17:15 IST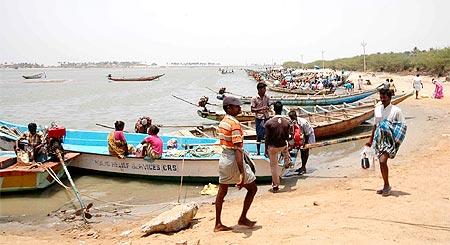 The fishing community is concentrated mainly in the Pulicat area, around 70 kilometres from Chennai. The 14 fishing villages around the lake have around 50,000 voters.
A bridge connecting the mainland to the island is under construction. Unlike the farmers in the constituency, the fishermen have been supporting the AIADMK from the times of the party's late founder M G Ramachandran. Even today, both the old and young (who have not even seen MGR) talk fondly of what he did for the community.
Sivaraj, a fisherman-cum-boatman, says, "We work hard. A family of four needs at least 2 kg of rice. Today, buying rice is a costly affair. For one meal, we have to spend Rs 60. How is that possible?"
Village chief's dictate: Don't vote for DMK
May 12, 2009 17:15 IST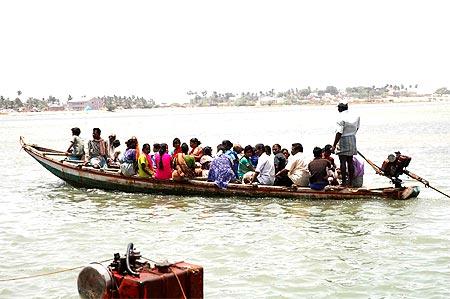 Today, the children take the boat to school. Even when there is a medical emergency, they have to take the ferry.
R Kumar, the thalaivar (head) of one of the villages, says, "In my life, I have not seen such price rise. We get the same price for fish, but the price of rice and other items have increased manifold. Thirty-five years ago, when MGR was there, there was a hospital with a doctor available for 24 hours. Today, even if there is an emergency, we have to travel to either Ponneri or Chennai."
So angry is he that he has asked the villagers not to vote for the DMK and the Congress as they "have made lives miserable."