'They are marketing me like Miss Universe'
May 13, 2009 15:08 IST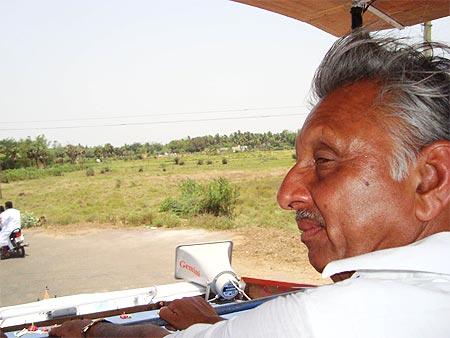 Mayiladuthurai in Tamil Nadu may lack basic amenities, but Saisuresh Sivaswamy finds that lack of development has not deterred its Member of Parliament Mani Shankar Aiyar from embarking on a flamboyant campaign.
Nehru kudumbathin nerungiya nanbar (a close friend of the Nehru family), makkal thondar (people's servant), sogusu vaazhkaiyil pirandhavar irundhalum ungalukku sevai seyya vandhirukkirar (born into a wealthy family, he is nevertheless here to serve you).
These are but some of the epithets that made me blanch in Mayiladuthurai, the Tamil Nadu constituency where Union Panchayati Raj Minister Mani Shankar Aiyar is involved in a do-or-die electoral battle.
If the slogans had a similar effect on the man who the megaphone was describing even more profusely on the two days I spent with him, Aiyar doesn't show it. "Oh, I am quite used to the hyperbole by now," he shrugs off nonchalantly.
And as the impressive motorcade with numerous volunteers on motorbikes snakes its way through the lanes of Papanasam and Kumbakonam assembly constituencies, Aiyar doesn't lack in signs of what makes him eminent copy. "They are marketing me like Miss Universe!" he exclaims, and adds sotto voce, "Of course, without the breasts."
Such subtle infusions of humour, perched atop his campaign van in the dehydrating sun and keeping a punishing schedule, don't hide the worry lines on the minister's brow, though.
Adding to his worries is the presence of former IAS officer L V Saptharishi in the fray, on a Bahujan Samaj Party ticket. The latter has been in the constituency for the last nine months, and has personally been to all the villages canvassing for votes.
Photographs: Saisuresh Sivaswamy
Too close to call
May 13, 2009 15:08 IST
"I think it's an election that will be too close to call," he admits frankly. "So close that I don't even want to hazard a guess."
And you know that when the incumbent says it is too close to call, he actually means the battle is lost. Which is surprising, considering that in 2004 he defeated his closest All India Anna Dravida Munnetra Kazhagam rival O S Manian by more than 200,000 votes.
Incidentally, in an interaction with me in Thiruvidaimaruthur later in the day, Manian, who is out to avenge his defeat five years ago, crowed confidently, "My victory was assured the day the Congress party nominated Aiyar."
Is the downturn in the MP's popularity on account of the rival AIADMK grouping cobbling together a better coalition -- comprising the Pattali Makkal Katchi and the Marumalarchi DMK, both of who were with the DMK front last time round, and the Communists?
"It is all about arithmetic," Aiyar admits, but puts up a brave front: "Head to head the two groupings are equally placed in terms of alliances. We too have various outfits on our side." The fact remains that the parties that can swing the vote are with the AIADMK this time.
Aiyar doesn't buy this argument, and insists that the same factors that worry him are worrying his main rival Manian as well.
Old-style election campaign is here
May 13, 2009 15:08 IST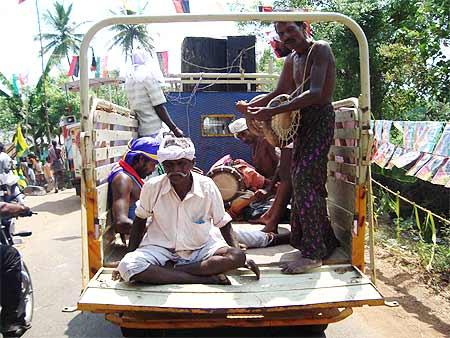 To return to the campaign, the hyperbole on show jolts you to the reality that this is Dravidian territory where the rules are different, mind it. And if the size of his motorcade is any indication, Aiyar is home and dry before the votes are cast on May 13.
This is a high-decibel campaign that takes you back to the good old style of election campaigns as they used to be before T N Seshan and his successors decided to sanitise the process and rob the poor hacks of entertainment. So all you bemoaning the death of the Indian election circus, I found it alive and kicking in Mayiladuthurai.
There were four wheelers that materialised out of nowhere, there must have been at least a hundred motorcycle-borne volunteers preceding and following the motorcade. Crackers were burst, aartis done, shawls handed out (for that peculiar Tamil custom of wrapping it around the shoulder), microphone blaring out the coming of the makkal thondar, plus there was a van carrying a local troupe belting out koothu (Tamil folk) music.
This was a fulsome election campaign, all right.
It is a DMK show all the way
May 13, 2009 15:08 IST
Fulsome, but also a DMK campaign, not a Congress one, a fact I gently point out to the latter's candidate.
"Yes, it is being run by them," Aiyar admits, "But under the terms of our alliance they are clearly the big brother and we have conceded the position to them."
It does gall somewhere, but "I have learnt to grit my teeth and put up with it," he admits readily.
Other party workers may not be so understanding, however, In one village in Papanasam, Congress workers Swaminathan and Selvaraj accost me minutes after the MP passed by after hoisting the Congress and DMK flags, to rant about how shameful it was that their party flag was hoisted by a DMK man since they couldn't find a local Congress leader to do the needful.
"The Congress has workers, but no local leaders," they said, perhaps a reflection of the party's condition elsewhere in the state too.
In the corner meetings he holds with villagers in Papanasam, an assembly segment that has come into Mayiladuthurai post-delimitation, Aiyar plays up the DMK connection. There is the Rising Sun (the DMK election symbol), he spreads his fingers like the sun rays, and today the fingers have joined to form the Hand, the Congress symbol, he tells the people. So if you support the DMK, vote for me, they are with us.
As are the many (small-time) parties, he says, reeling off various caste-based outfits' names. The Muslims are with us too, he repeatedly emphasises, since his is a secular outfit and also because there is a significant number of them in his constituency.
Mayiladuthurai is nothing to write home about
May 13, 2009 15:08 IST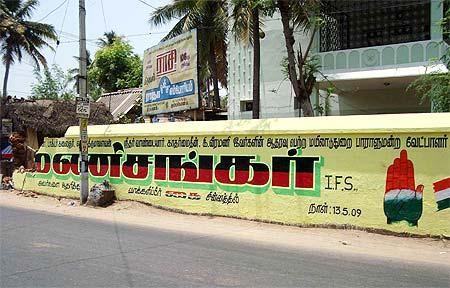 What I found strangely missing from Aiyar's campaign was any mention of his own achievements. Help make Manmohan Singh the prime minister, we are the government that reduced cell phone tariffs, vote for us to form a strong and stable government since we are the only government that has the expertise to tackle the economic crisis.
Fair enough arguments if it was the prime minister seeking votes, not a three-term MP.
Aiyar's Lok Sabha home page shows a full utilisation of his local area development funds, but I suspect its utilisation is not something that has changed the face of the sprawling constituency.
In fact, I found the township pathetic in terms of civic amenities. The main road outside the bus stop can only be described as a mess, and the rest of the constituency, at least in the 400 km I covered, doesn't take your breath away.
It is just any like other Indian constituency, a far cry from the Dubai Aiyar had once vowed to turn it into.
Never one to shun candour, Aiyar admits that was a bit of hyperbole on his part. "I was new to the system, and did not realise change doesn't happen overnight," he offers apologetically.
Today, he says, he is more seasoned, and realises that the wheels of government grind slowly. "There is plenty that has not been done," he concedes.
Will Aiyar beat the disillusionment?
May 13, 2009 15:08 IST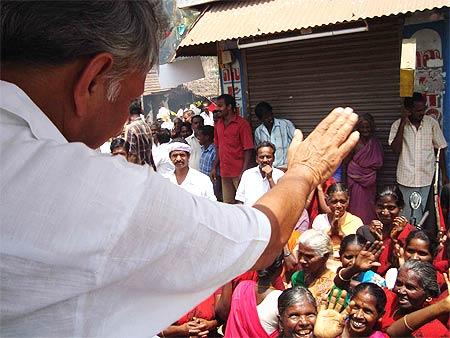 The usual bellwether voices I listened in on are furious that Aiyar has done little for the constituency. There is a lot of anger against him for unkept promises, they say. In particular came the mention of Moongilthottam village, where half the population is said to have crossed over to the AIADMK.
Despite the disillusionment, many say, Aiyar will end up winning the seat by a drastically reduced margin. "An MP's election is not a joke," tea-stall owner Chinnappa points out. "An assembly election is a different game, an MP's election involves mobilising 10 lakh (1 million) voters, how many have the resources to do it? Aiyar is a sitting MP, and is better placed to reach out to so many people."
Point noted. Having attended the DMK-Congress, AIADMK and Bahujan Samaj Party rallies, there is no doubt the former has thrown it everything it has into the contest. The AIADMK, by assuming a facile win on the basis of its superior alliance and not focusing enough on pressing enough feet and wheels into the campaign, could just turn a sure victory into a narrow defeat, but that's for May 16 to show.
For now, Aiyar believes that alliances aside, he has a superior weapon that no pollster focuses on, and which will be his differentiator.
"Nearly 50 per cent of the voters are women, and among them I believe I hold the edge. None of my opponents will be able to win them over," he asserts confidently.
The Family is always there
May 13, 2009 15:08 IST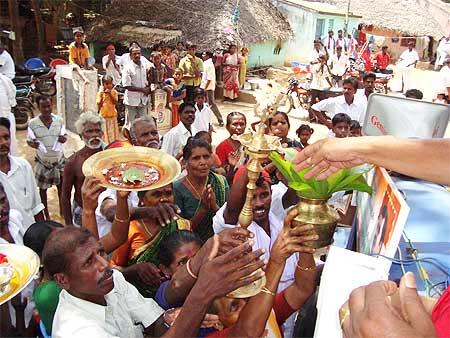 Apart from the DMK's firepower, Aiyar has had his ministerial colleague G K Vasan, whose father G K Moopanar was the uncrowned king of the region and who ironically was out to scuttle Aiyar's nomination in 1991, rallying for him. The Congress's pinch-hitters Rahul Gandhi and Sonia Gandhi, however, were a no-show. Strange, given his ties to the family, I ask him gently.
"Oh, Rahul did contact me to say that he was sorry he couldn't come and campaign in my constituency, but he has sent a recorded message in my support, in which he describes me as his father's friend etc. I am happy," Aiyar says.
"Sonia and I may not share a backslapping, overtly friendly relationship, but I know that she is out there watching over me, that is enough for me," he adds, even as he goes on to narrate how, describe the various claims, he never crossed the professional line with her husband, the late prime minister Rajiv Gandhi. "He was always Sir to me."
It was on the latter's say-so that Aiyar chose electoral politics, and says it is for Rajiv that he has kept at it. "Rajiv told me in another context that change takes 30 years to reflect, and I have been an MP only for 15 years. But I hope I will deliver on my promises ahead of time, by another 9 years, so that when I meet him up there I can tell him so."
All of which makes for good copy, but poor justification for the voter who seems to have made up his mind. What Mani Shankar Aiyar will end up telling his old friend up there, is entirely in their hands. And not necessarily with the Congress's Hand.