Who will have the last laugh in Chennai?
May 12, 2009 17:40 IST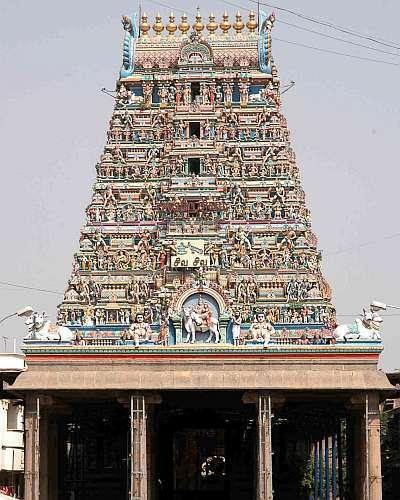 Shobha Warrier assesses the DMK's prospects in Chennai post delimitation. Photographs: Sreeram Selvaraj
Chennai city has three constituencies -- Chennai South, Chennai Central and Chennai North -- each of them as different from the other as cheese is from chalk.

Chennai South, with around 1.5 million voters, is the most prestigious constituency in Tamil Nadu. Post delimitation, it has turned into a completely urban constituency.

From the high-profile IT highway, dotted with numerous IT majors, to the traditional Mylapore with the magnificent Kapaleeswara temple in its fold, the symbols of today's Chennai are all here in Chennai South.

The semi-urban segments like Alandur and Tambaram have been carved out of the limits of the constituency post delimitation.
The DMK may be losing its grip
May 12, 2009 17:40 IST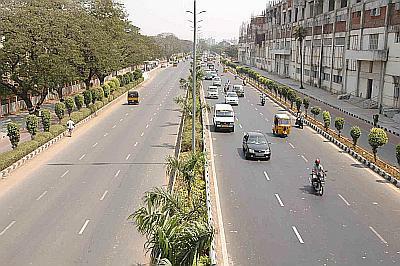 Chennai South has elected stalwarts like then Union finance minister T T Krishnamachari, Dravida Munnetra Kazhagam founder C N Annadurai, later President Ramaswamy Venkataraman, then commerce minister Murasoli Maran and actress Vyjayanthimala Bali to the Lok Sabha.
Union Minister T R Baalu has won this constituency four times since 1996.

The only time an AIADMK candidate, Dr R Sridharan, won Chennai South was in 1991.

Chennai constituencies are considered DMK bastions. But judging from the results of the last assembly election, it appears the DMK's grip may no longer be intact.
In 2006, three assembly segments -- Mylapore, Saidapet and T Nagar -- went to the AIADMK.
Unlike the past, it will not be a straight fight between the DMK and AIADMK this time. The Bharatiya Janata Party candidate, state BJP president L Ganesan, is expected to give his opponents a stiff fight.
Expect a surprise result in Chennai South
May 12, 2009 17:40 IST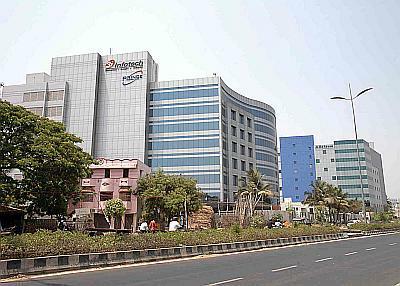 Chennai South has more than 100,000 Brahmin voters, who are looking for a change. Ganesan may turn out to be their nominee.

After Baalu moved to Sriperumbudur (an industrial town in Kanchipuram district), the DMK fielded R S Bharati, the longest serving chairman of Alandur municipality, as its candidate. Unfortunately, Alandur is now part of the Sriperumbudur constituency after delimitation.

AIADMK candidate S Rajendran is making his electoral debut.

Young voters may be influenced by what the slum kid turned businessman E Sarathbabu, an Independent candidate, has to offer.
Prediction: Expect a tough fight and a surprise result.
Maran may repeat 2004 success
May 12, 2009 17:40 IST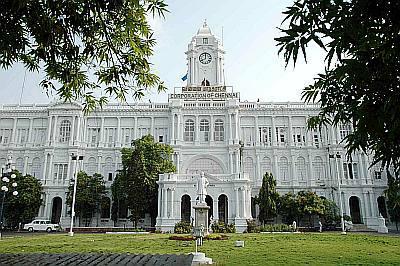 Chennai Central, with an electorate of 970,000 voters, has been a DMK bastion with Murasoli Maran winning from here since 1996. His son Dayanidhi Maran tested the political waters for the first time in 2004 and emerged victorious.
The younger Maran subsequently became the Information and Technology minister in the Manmohan Singh government till he fell out with his grand uncle, Tamil Nadu Chief Minister M Karunanidhi. Those differences have now been resolved, and Maran is back as the candidate.

Many middle class voters in the constituency consider him an efficient minister, but he has not done much for Chennai Central. On the other hand, voters in Chennai South believe he has been instrumental in accelerating work on the IT Highway. Maran's chances would have been bright had he been the candidate from Chennai South.

Chennai Central has Muslims, fishermen and slum dwellers. It is to target this large vote-bank that the AIADMK fielded Mohammed Ali Jinnah against Maran. S Hyder Ali, general secretary of the Tamil Nadu Muslim Munnetra Kazhagam, is also targeting minority votes.

Prediction: Interesting contest, but Dayanidhi Maran has the edge.
DMK's loss is CPI's gain
May 12, 2009 17:40 IST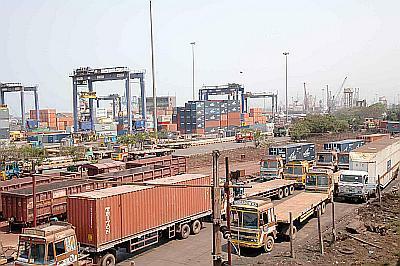 Chennai North, with an electorate of around 990,000 voters, is the most neglected of the three city constituencies.
Bad roads, power cuts and shortage of water are some of the woes here. Chennai North can be termed a workers constituency, considering the presence of a number of large industrial establishments, Ennore port and many associated unions.
That is why the Communist Party of India's D Pandian has a very good chance of winning the seat despite the constituency being a DMK fortress. Pandian won this seat in 1989 and 1991 as a Congress candidate.
The DMK has fielded T K S Elangovan as its candidate, but incumbent DMK MP Kuppusami's lacklustre performance may affect Elangovan's prospects adversely.
The BJP has fielded Dr Tamilsai Soundararajan as its candidate. The party's prime ministerial candidate L K Advani was in the constituency campaigning for her, but it is a foregone conclusion that she has no chance of victory.
Prediction: Pandian is on a good wicket in Chennai North.