An angry voter on a cloudy day
May 13, 2009 16:13 IST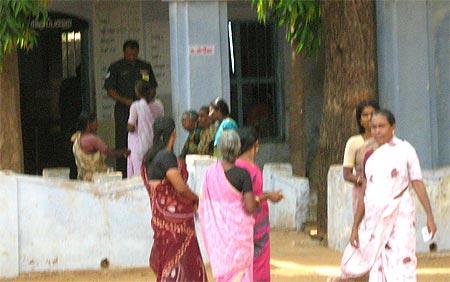 A Ganesh Nadar visits various villages in the Tuticorin constituency in Tamil Nadu on voting day.
Murugan was the first to vote in Panickanadarkudieruppu village. "I wanted to vote before the heat gets unbearable."
In booth 48, the polling agents could not find a voter's name though he carried a voters' card. The polling agent explained, "Last time they checked you must have not been at home. So your name has been struck off."
The voter went to booth 49, located his name and cast his vote. After that he came to the first booth and screamed at the polling staff, "If a name is not here tell them to go to the next booth and check. Don't tell them that their name has been cancelled."
Why Purayur will not vote
May 13, 2009 16:13 IST
In Nalumavadi village voting proceeded briskly. The men's queue was short; the women's queue was much longer. Outside the polling centre stood a van with two coffin like boxes painted in white.
"These are the boxes in which we will take back the Electronic Voting Machines," explained the policeman standing on top of the van.
In Purayur village only a couple with their two children had come out to vote.
Inquiries in the village revealed that the villagers would not vote this election. They had not received the promised free colour television sets the ruling Dravida Munnetra Kazagham had promised them after the last assembly election.
All efforts by local DMK cadres failed to make an impressions on the villagers; in desperation, the DMK activists briefed leaders at the party's district headquarters to convey the voters's anger.
'I have six votes in my family. I got Rs 1,200'
May 13, 2009 16:13 IST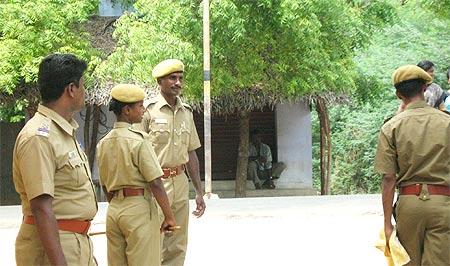 In Kurumbur, retired teachers Murugesan and Subbiah were chatting at the tea shop.
"I have six votes in my family," Subbiah said, "I got 1,200 rupees."
"Voting is your democratic duty. Isn't it wrong to make money out of it?" questioned Murugesan.
"If I had refused the money the guy distributing it would have taken the cash and told them that he had given it to me. So I took it," Subbiah shot back.
Another senior citizen, David Nadar, offered his opinion: "They may take money to vote. But they will not vote for the candidate they are taking money from. They will still vote for the person they want."
Elsewhere in the bazaar, some cabbies were arguing, "The village nearby got money, we did not. Make sure you don't vote for the DMK."
DMK cadres were desperately trying to explain, "The money came last night. But the AIADMK (All India Anna Dravida Munnetra Kazhagam) MLA blocked our way and made our party members return."
Locals revealed that the MLA kept Kurumbhur under surveillance till 11 pm on Tuesday night and left only after the police and local cadres promised to keep up the vigil all night.
'Are we cheaper than the voters of Madurai?'
May 13, 2009 16:13 IST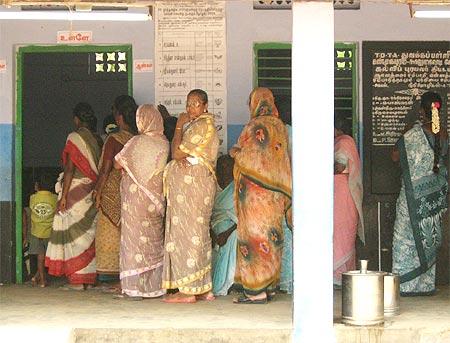 "I am not going to vote for the DMK just because they gave me Rs 200," another villager Ramakrishnan said. "Do they think me a fool? In Madurai they have given Rs 1,000 for a vote. Are we cheaper than the voters of Madurai? I will teach them a lesson."
Every booth we visited had more women than men queueing up. If the women have turned out to bring back Amma as AIADMK chief J Jayalalithaa is known, then nothing can stop her party's triumph.
A DMK supporter shook his head. "You think these women have forgotten the Re 1 rice, the bag of provisions for Rs 50, the colour TV. They have come out to vote for us."
A grocer added his bit. "I will not vote for the DMK. This provision bag for Rs 50 has spoilt my business. Nothing is selling in my shop. My family will not vote for them."