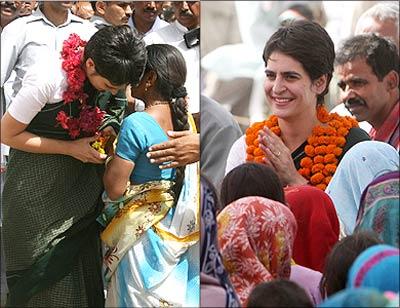 Forty-eight hours before Amethi, Rahul Gandhi's constituency in the heart of Uttar Pradesh goes to the polls, sister
Priyanka Gandhi
was barnstorming the place in her Land Cruiser jeep, stopping at village squares and corner roads, between mud-packed houses and grain sheaves, milch cows and children who had taken off from school to come see, hear and touch this girl-who-was-indeed-for-real.
Speaking in impeccable Hindi, Priyanka warmed to each corner-side crowd within seconds, moving microphones out of the way in some places and wading into the crowd, dimpling at them, totally unafraid. This was vintage Gandhi nobility returning to its political roots, but it never once seemed as if Amethi's villagers were in awe of her.
Jyoti Malhotra caught up with her at the end of each campaign stop, as the searing sun blazed overhead and the hot wind whipped through fields still being harvested, and pieced this interview together over the best part of the day.
Why have you restricted yourself to Amethi and Rae Bareli? Why not campaign in the rest of Uttar Pradesh and the country?
I am campaigning here for my brother and for my mother. I am not campaigning elsewhere because I am not in politics. It would be dishonest of me to go to any other part of the country (since I am not in politics).
So this is personal, for the family?
Yes, it is. I had always said that I would only come to these constituencies. I wanted to come and help strengthen the organisation. (The organisation) is there, it has been there for many years, but I thought I would come and help Rahul and my mother.
Right here, under the Amethi sun, I want to ask you about your vision of India. What is your idea of India?
That is a complicated question. India symbolises a lot of things for me. It is about the diversity of religions and ideologies -- everybody can follow whatever they want. But there is a certain unity as well.
In your campaign meetings, you have talked a lot about whether you will join politics or not. A little while ago you said you would never join politics, then you changed that to saying, there is no such thing as "never" in politics.
I am saying this again, and I have said it before. I will never join politics. What I said about "there being no such thing as never" was twisted out of context.
What made you say "never say never..."?
I believe the universe works in a complicated way...
You are clearly a natural, why wouldn't you join politics? Congressmen all over the country feel you are their ultimate weapon...
The problem with that is that most weapons can be used only once ! I am repeating myself, I am not joining politics.
You have been talking a lot about Rahul getting married in your campaign speeches!
I was kidding!
How have things changed in Amethi and Rae Bareli over the years?
They have drastically changed. We have been coming here since my father's time, there is a lot of improvement now. Apart from roads and other infrastructure, I have helped start self-help groups for women. (Called the Mahila Yojana for Amethi and Rae Bareli (MYRA), these groups offer micro-credit for women to set up small cottage industries in dairy farming and sericulture.)
You have often been compared to your grandmother Indira Gandhi? How do you feel about that?
I have very strong memories of her. She was not overbearing at all, but very warm and caring. She was absolutely my idol at the time.
What do you think about Rahul?
I think he has a great future. He has enormous dedication and capacity for hard work. He has done a lot of revolutionary things which have gone unnoticed.
Do you see him as a future prime minister?
Main usko us nazariye se nahin dekhti. Main usko ek behen ke nazariye se dekhti hoon (I don't see him in that way. I see him as a sister sees her brother).
It is said that you follow the Middle Path in Buddhism?
Yes, I live by it. I see it as being true to myself.
What do you thing about women's reservation?
The government tried to do something about this issue in Parliament, unfortunately they could not get a consensus. But I think it is not only important, but necessary.
What are your views about Dr Manmohan Singh?
I think that he is a very imaandaar (honest) man. If after being in politics for so many years, he can still be such an honourable man, then that is not only very creditable, it is his biggest strength.
RJD leader Lalu Prasad Yadav has said that the Congress was responsible for the demolition of the Babri Masjid.
That seems politically motivated.
What are your views about Mayawati? She has clearly evoked a lot of support and admiration, especially from the lower castes. Do you understand what she does?
Yes, I understand what she does. It's true that certain castes have been oppressed for centuries, and she has tried to empower them. But the way forward is to take everybody along, not to divide people on the basis of caste and religion.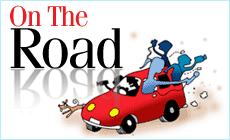 Do you think the Congress and the BSP could work together? After all both parties are similar in some ways...
That you will have to ask the party (smiles).
Do you think the Nehru-Gandhi family is synonymous with India?
Well, they have always worked for India, so in that sense I suppose the family is very close to the people.
But there has been a lot of criticism about dynastic politics...
I don't agree. After all, even in dynastic politics, you have to come back and ask the people to vote for you every five years. If you haven't worked for them, they won't vote for you.