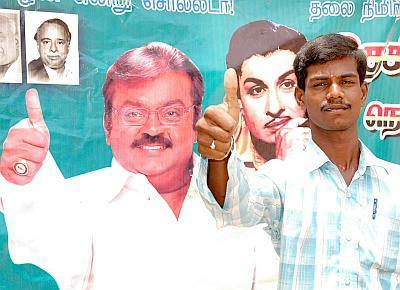 Rediff.com reporters travel across the country, listening to voters's voices
Sivakumar, 25, bus conductor, Kancheepuram
I am waiting for the day 'Captain' (That's what actor-turned-politician and Desiya Morpokku Dravida Kazhagam chief Vijayakanth is popularly known as) will rule the state.
You will see not only me but many youngsters like me with the same dream in all villages in Tamil Nadu. Our tribe is increasing day by day. But, it was not because of his films that I got fascinated by Captain. I am a (actor) Vikram fan.
The first time I listened to 'Captain' was two years ago. He had come to Kancheepuram to speak. I liked the way he spoke, I liked what he spoke. Is what he said not true? We have tried both the Dravida Munnetra Kazhagam and the All India Anna Dravida Munnetra Kazhagam. What have we gained? Nothing!
Now, let us give him a chance. If he doesn't perform, we can change him then. But I am sure he will bring about a change in the state.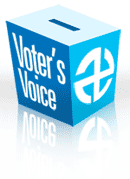 Six months ago, I joined the DMDK. I was never a political person, but after listening to 'Captain', I felt I too had to be a part of the change he was talking about.
The village elders are either with the DMK or the AIADMK. My own parents are supporters of (AIADMK chief J) Jayalalithaa and I am trying hard to change their point of view. I am sure I will be able to by the time the assembly elections in 2011.
I do not know anything about Delhi or national politics. What matters to me is how our lives go. I could study only up to Class 10. Now, I work as a bus conductor in a private bus.
Life is tough for us, but we live on hope, on the hope that 'Captain' will change our lives and the lives of so many under privileged young people like us.

Text: Shobha Warrier | Photograph: Sreeram Selvaraj