With elections to the 15th Lok Sabha just weeks away, rediff.com's reporters speak to voters across the country to find out what's on their mind.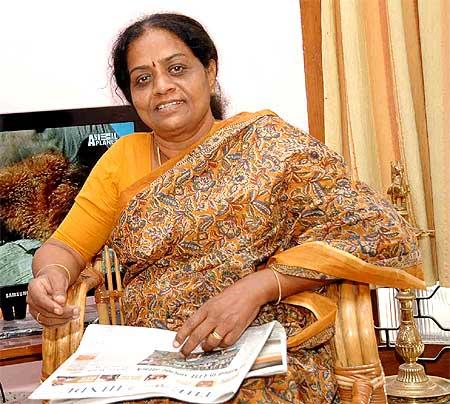 Usha Shankar, 52 is a housewife.
"For the last more than 20 years, I have been voting in every election. I enjoy the process of choosing those who rule my country. I will never deny myself this privilege and I feel every Indian should vote without fail."
"I always voted for an individual and not the party. The fact that I don't vote for the same individual again shows I am not satisfied with anyone so far. So, I keep changing the candidates. They promise a lot of things at the time of the elections but once they are elected, they forget everything. None of them keep their promises. Let alone keep their promises, they don't even visit the areas. We see them only during the elections. After that, they vanish from the scene."
"As far as Tamil Nadu is concerned, I feel I should give a chance to Vijayakanth. We have tried the other two parties with no good result. Now, let me see what this man will do. I know I am taking a chance but the risk is worth taking."
"I am not at all satisfied with the Manmohan Singh government. I feel he is a puppet in the hands of Sonia Gandhi. It is so obvious that he cannot act on his own on many issues; it is always Sonia Gandhi who is calling the shots. He is a very weak prime minister. His government has failed on all accounts, I feel. There is unemployment, there is price rise, and there is terrorism."
"In Tamil Nadu, the Sri Lankan issue will definitely dominate. But for the people of Tamil Nadu, the Sri Lankan issue will not be the major issue as we have our own problems. Let us solve our problems first before talking about our neighbour's problems. Other issues that will be talked about will be unemployment, recession, power shortage and terrorism."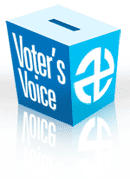 "I don't believe in dynastic rule. In the case of Rahul Gandhi, as he is from a family that has been in politics for so long, he may know something about the happenings in the country. But that does not make him eligible to rule the country. We have an electoral system. Let people decide whether he has the ability to lead the country.  At present, he is inexperienced to lead the country. Between Rahul and Priyanka, Priyanka may strike chord with the people because she resembles Indira Gandhi a lot."
"I don't want the Third Front to come to power at all. That is for sure. I also don't like to see Advani or Manmohan Singh or Mayavati as the leader of the country. At the national level, I like only one politician, and that is Narendra Modi. I admit I am influenced by the opinion of our political analyst and the editor of Thuglaq, Cho Ramaswamy. Cho has great admiration for Modi! I like Modi for the work he has done for Gujarat. He is a good administrator and very tough. We need such tough leaders. My admiration for him increased after he got the Nano project."

Text: Shobha Warrier | Photograph: Sreeram Selvaraj