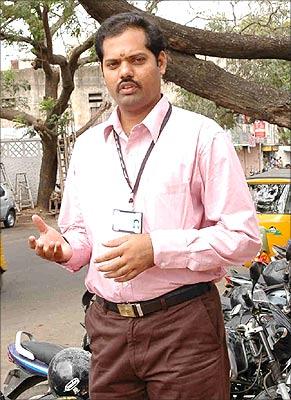 With elections to the 15th Lok Sabha just weeks away, rediff.com's reporters speak to voters across the country to find out what's on their mind.
Narrendiran P A (30) is a Corporate Communication Executive in Chennai
I have never missed voting, and in every election, I go to the polling booth by eight in the morning to exercise my franchise. I go in the morning itself because I do not want anyone to misuse my vote. I am very particular that my vote should go to the right candidate. We always complain about politicians not doing anything but as responsible citizens, it is our duty to vote and select the right person.
I am against having the option, none of the above because elections are to choose a candidate. Under any circumstance, we should vote for a candidate. I do not agree with the argument that none of the candidates are worthy of our vote. I feel we will be able to choose a good candidate from a list of four. Even if all the four are criminals, let us choose the better criminal! According to me, that option should not be there at all.
Major worrying issues
As far as Tamil Nadu is concerned, power shortage and inflation will be the two major issues. I was in a place near Kumbakonam last week, and there was no power for 20 hours a day! I don't know why but every time the Dravida Munnetra Kazhagam comes to power, there is power shortage in Tamil Nadu.
Inflation will be a major issue. How many people can afford to buy rice for Rs. 37 a kilo?
I am sure all political parties here will highlight the Sri Lankan Tamil issue as a major one. But I will tell you the people of Tamil Nadu are sick of hearing about the Sri Lankan Tamil issue. When our house is burning, how many people are interested in our neighbour's problem? Only the political parties are interested in the issue.
Manmohan Singh government
On certain issues, the Manmohan Singh government is good and on many other issues, it is bad. They have been very bad in handling terrorism. The government has been unsuccessful in checking price rise. I am opposed to the loan waiver given to farmers which was nothing but an eye-wash. On the whole, the government has not performed well at all.
L.K.Advani as the Prime Minister
Even though the Congress led United Progressive Alliance has not done well, the chances of Advani becoming the Prime Minister is quite bleak now. That is mainly because they don't have strong allies.
But the man who will play a major role for the Bharatiya Janata Party will be Narendra Modi. Though the BJP is not a major force in the southern part of India, Modi is respected more than anybody else. He is respected here because many know what he has done for the development of Gujarat.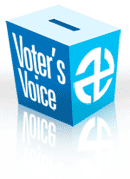 Dynastic politics
According to me dynastic politics should go. We people can do only one thing -- Vote! So, when we vote, we should not choose candidates who are a part of a dynasty.
Rahul Gandhi does not have any experience in politics but the Congress has been projecting him as the future Prime Minister of the country. If you look at the performance of the Members of Parliament, we will see that there are a lot unknown people who have really done good jobs. We should encourage such people and not those who are a part of the dynasty.
The three major groups
Among the three major groups, the Congress is stronger because of the number of allies they have. The Third Front is useless and in the National Democratic Alliance, there are no allies; only the BJP is there.
In Tamil Nadu, there will be close contest between the DMK and the All India Anna Dravida Munnetra Kazhagam. Because of the allies, ultimately, the DMK front may become more successful. Though Vijayakanth may not be a force in the Lok Sabha elections, he can play a spoilsport. I feel he will not have much impact in this elections.
Prediction
My prediction is that the Congress will come back to power. We will be happy if Manmohan Singh is made the prime Mmnister.
My vote
I am from the South Madras constituency, and I will vote for the candidate who has done something for my constituency. We don't normally go by the political party. T R Baalu has won three times from our area. We voted for him because he has done some good for our area. This time also, my vote goes only to meritorious candidate and not to any political party.
Text: Shobha Warrier | Photograph: Sreeram Selvaraj