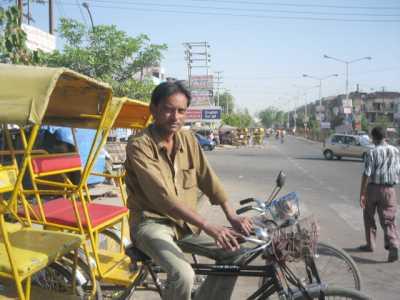 Vinod Gupta is weak and frail. Migrated from Kanpur to Ghaziabad to earn a living, the rikshaw-puller says even his wife deserted him. Asked why, he tells stoically, 'Paisa kahan hai?" (Where is the money?)
But, Vinod  -- despite being poor and uneducated -- knows his politics. It is from Vinod's constituency – Ghaziabad -- where Bharatiya Janata Party president Rajnath Singh seeks the mandate. Though the BJP thinks it will be a cakewalk for its president, emerging media reports indicate that the Bahujan Samajwadi Party's millionaire candidate Amarpal Sharma will give him a close fight.
Besides, Ramesh Tomar, BJP's strong Thakur leader, was denied ticket from the constituency. That essentially means his supporters will not work for the party president.
Making it a close contest, Suredra Goyal, the sitting Congress MP, is supported by the Samajwadi Party.
Vinod says, "Rajnath Singh will win because his son is married to a woman from Gadhwal. My neighbours are from Uttarakhand and all of us will vote for Rajnath."
New Delhi and Ghaziabad are home to over two million people from Uttarakhand. The demographical significance is evident from the fact that when Rajnath Singh filed the nomination, Uttarakhand Chief Minister B C Khanduri was standing by his side.
Asked why he supports the BJP, he says his father always voted for the Gandhi family. The Congress won from their village which falls in Hardoi constituency. He adds, "Ayodhya mandir ke baad hum BJP ke ho gaye."(After the Ayodhya issue, we started supporting the BJP.).
His father and relatives are small-time traders. That time, they printed a poster to request Congressmen to not visit their houses.
The poster announced that, " Hum Ram ke rakshak hai. Kripya yahan se Vote na mange!" (We are devoted to Ram. Kindly, do not ask for vote here.)
Vinod says he is unable to peddle his cycle rickshaw these days. When he cycles, he gets acute pain in abdomen.
"Every time I go to doctor, he charges Rs. 35 and takes extra money for medicines. I find it very costly. So, I avoid going to him."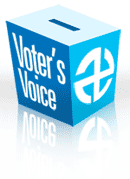 Why do you oppose the Sonia Gandhi-Manmohan Singh government? His answer was a stunner, "The UPA government has some deficiencies. And I am upset with what happened to Varun Gandhi."
He adds, "Both, Rahul Gandhi and Varun are cousins. They have the same blood. The Congress should not have stooped so low to put their own family member in jail. Rahul should have helped Varun."
When asked about Mayawati, he says, "In Uttar Pradesh, she has given land to build colonies for harijans. Apart from that, she has not done anything for anybody. Rowdies are all around."
Rather, Mayawati's clean chit to Mukhtar Ansari, who has more than 40 serious cases against him, has raised many eye-brows.
She openly declared that Ansari is acting as Robinhood. The court has rejected Ansari's plea to stand in election. That statement can cost Mayawati dearly. Vinod agrees. "If you don't give us job, then at least give us peace."  
Text & photograph: Sheela Bhatt