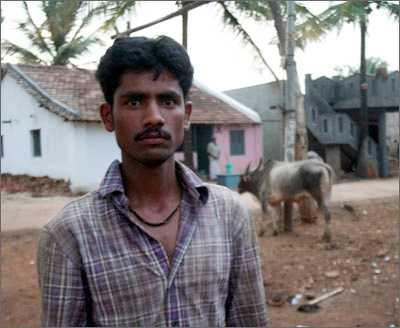 Rediff.com reporters traverse across the country to listen to voters about their problems and needs. Here is another tale.  
Who: Devappa
Where: Shimoga, Karnataka
What: Lost his land.
Why: False promise
The story:
I was misguided and in the bargain, I have lost three acres of land. We were told that an airport is coming up at Shimoga. Since agriculture was going nowhere, I decided to sell off my land and invest it in a small plot in Shimoga, where the airport was scheduled to come up. We were told that once the airport comes up, the land prices would soar.
However, the government has made it clear that the airport would not come up at the scheduled place and that the project was being shelved for good. There is absolutely no value for the land which we purchased. Worse, no crop will grow on this land.
I understand now that it was our stupidity to sell off land and go invest it elsewhere. We were wrong, but we deserve another chance to live a better life. I am hoping that the BJP comes to power at the Centre. Then both the BJP governments can work in tandem. I hope the government will help us get our land back. I know for a fact that there is no such provision, but at the moment it has become a matter of life and death. I plead with my MP to help us out of this horrid situation that we are in for which we have only ourselves to blame.
Text: Vicky Nanjappa
Photograph: Reuben Fernandes