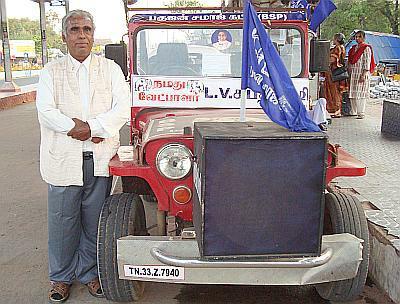 What propels perfectly sane people towards politics is always a baffling question. L V Saptharishi, retired bureaucrat who has been giving sleepless nights to candidates in Mayiladuthurai Lok Sabha seat, is one such person.
A denizen of New Delhi and elsewhere in North India, he relocated to the constituency nine months ago, soon after his retirement, and went on an outreach programme that took him to all the villages in the constituency. His message was simple: the present order has not delivered, so vote for one of us to make a Dalit the prime minister of this country.
Will the people vote for him? Saptharishi, an Indian Administrative Officer of 1969 vintage from the West Bengal cadre, is confident they will. "The Dalits surely will, but they won't be the only ones," he says confidently.

"I am not fighting the elections to lose; I have come here to win."

His position as the co-chairman of the Confederation of NGOs of Rural India also gives him a unique understanding of the actual conditions in the countryside as well as reach, Saptharishi feels.
Bluster or prediction only time will tell, but for now there is no denying that his personal campaign, despite being characterised by a severe lack of funds, has had an impact. His motorcade has neither the numbers that the Congress-Dravida Munnetra Kazhagam alliance has managed to put out, nor the high decibel that the rival All India Anna DMK boasts of.
But what it lacks in these, Saptharishi is determined to make up through sheer hard work and grit. He maintains a punishing schedule, one that I couldn't match while in Mayiladuthurai, setting out at sunup and calling it quits at midnight. "I do not depend on money power," is Saptharishi's simple explanation.
So what drives him like this? Power for the sake of power? The desire to see his party president Mayawati in the prime minister's chair?
"I have been an IAS officer for 30 years and held various positions in the bureaucracy, and I know exactly how the government functions. I feel I can best bring my vast experience to make a difference to the people. I am here to serve them, that's all," he says modestly. "I am here to make a contribution at the individual level."
About Mayawati's eligibility for the country's top post, Saptharishi, who says he was sent to the constituency by her, has no doubts whatsoever. "Such doubts are there only in the minds of the English-speaking elite of this country, the English media, and those who crave to be ruled by the fair-skinned. On what basis do you think she is incapable? A Dalit, and a woman at that, is ruling Uttar Pradesh on her own, don't you think that itself is an achievement? Instead you are projecting those who have not held a municipality chief's job as better?" is his measured outburst at the question.
Everything about Saptharishi is measured, actually. He does not get fazed by uncomfortable questions, nor does he think he will be merely a spoiler. Congress leader Mani Shankar Aiyar told me that he will be surprised if Saptharishi gets more than 20,000 votes, but the latter refuses to be drawn into a discussion on what Aiyar has done or not done -- "Mani Shankar and I are from the service, so I refuse to discuss him other than saying he is a good friend."
Saptharishi, who says he has interacted with Mayawati many times during his years of service, found her to be dignified, progressive, and a respecter of individuals. She doesn't behave like the high command but acts in a friendly fashion, he says.
"If the BSP had not invited me to contest, I would not have thought of contesting on any party's ticket," he adds.
The consensus in the constituency seems to be that while Saptharishi has covered a vast ground in the nine months away from family and slogging away in the innards of Mayiladuthurai, he lacks the electoral punch to go past the post and will end up eating into the votes of the main contenders, primarily Aiyar.
Aiyar himself doesn't dispute this possibility. "There are too many of them in the fray this time, and since our election is based on first past the post system these people who don't stand a chance of winning on their own end up wasting the votes they have garnered," he said during his campaign.
Saptharishi, however, feels it is time for the educated middle class to come into politics and change the system. His campaign addresses local issues like providing good roads and electricity in villages, and also bringing alive the vision of former President APJ Abdul Kalam of providing urban amenities in rural areas.
About the BSP's plans for Tamil Nadu, Saptharishi says it signals its intention to become a major player in the country's politics. As for himself personally, he wishes to "demonstrate that even with limited means one can face up to the electoral challenge."
'There are people who welcome an honest man and believe in giving him a chance," Saptharishi says. "A man who does not know the details cannot hope to master the situation. An IAS officer on his selection is put through two years of training before he occupies any position. And in a constituency with more than 10 lakh voters you cannot presume that people will invite you merely because you have announced your candidature. This syndrome I wanted to break, which people succumb to in many organised parties."
What he might end up breaking, first of all, is the vote bank of established parties. But Saptharishi is quite open to the task, much to his opponents' chagrin.
Caption: L V Saptharishi about to set off on his election rally from Darasuram bus-stand in Kumbakonam, Mayiladuthurai Lok Sabha constituency.
Text and photograph: Saisuresh Sivaswamy in Mayiladuthurai