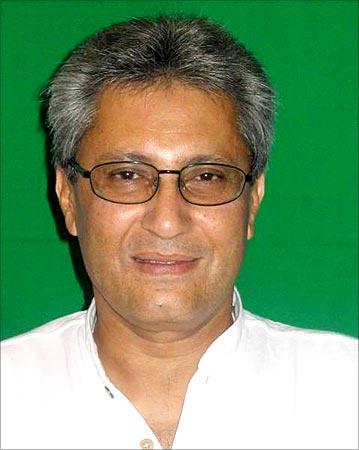 On the banks of the Ganga in Uttar Pradesh, Congress Member of Parliament
Saleem Shervani
from Badaiyon constituency is exhorting the population in Faizganj to vote for him in the coming election. This sliver of land has just been added to his constituency after the recent delimitation exercise, and it is new to Shervani's campaign.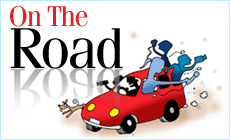 Despite the fact that he has been an MP from Badaiyon five times and knows the area like the back of his hand -- his grandfather was asked by Mahatma Gandhi to come and set up a sugar factory on the other side of the river in 1933 because 'India needed to be self-reliant,' and his father was a close associate of Jawaharlal Nehru -- Shervani's nervous anticipation is obvious.
"I will tell you a little story," he tells the crowd of about 200 people who have gathered to hear him under the shadow of a neem tree, cheek by jowl with golden wheat fields and the single wall of a beautifully decorated Idgah, "when India fought the Kargil war against Pakistan nearly ten years ago, our soldiers who died were not Hindu or Muslim or Christian, they were all Indian. But the Bharatiya Janata Party wanted to politicise the Kargil war and made security a national issue. I ask you, can we allow them to do that?" he asks.
It is a strange, little homily on the eve of an election which is being fought, vote by vote, on permutations based on caste and strategic alliances between parts of the Dalit vote and the Muslim factor.
Perhaps it is the presence of a few reporters from faraway Delhi that helps him push the 'national' button, but the fact is that the urbane Shervani, once minister of state for external affairs in I K Gujral's government in 1987, is able to connect life-and-death issues on the ground like caste and religion with the big picture, like few other politicians in the country.
Truth is, in Faizganj or in other, more familiar villages like Nagpur in his constituency, Shervani already has an edge. Having been expelled from the Samajwadi Party (from where he fought and won Badaiyon in four elections), he is already resigned to losing the 3.5 lakh Yadav vote to his SP rival and party chief Mulayam Singh Yadav's nephew, Dharmendra Yadav. As for Bahujan Samaj Party candidate D P Yadav, his reputation as a local goon precedes him everywhere in Badaiyon, and Shervani hopes he will cut into the SP candidate's vote.
But Shervani also hopes to make up not only with the 2.9 lakh Muslim vote in his favour, but also, crucially, by the coming together of Most Backward Castes like the Moriyas, Shakhs, Khushwahas and Sainis, who also vote en bloc with their 1.6 lakh votes in his constituency.
These castes, who traditionally have had no love lost with the overwhelming power of the Yadavs, also backward but above them in Hinduism's complicated hierarchy, have formed a local party called the Mahan Dal, which is in alliance with the Congress in several constituencies in this part of Uttar Pradesh.
In an acknowledgement of the untapped potential of the most backward castes, the Congress has agreed to leave the constituencies of Kannauj, Mainpuri, Etawah and Aonla to the Mahan Dal.
Shervani concedes that there is a danger in the fracturing of the vote into castes and sub-castes, but points out that simultaneously, this also indicates a deepening of democracy.
"Nearly 20 years ago, I got the Tatas to set up a fertiliser factory in nearby Bharwan, but now when I go to the villages, the people, especially the women, demand schools and hospitals. They realise that education has the power to be a great leveller. Things are changing slowly but surely, and while caste is still all-important, political parties are also sitting up and taking notice of other factors," he says.
Here, in Faizganj, the large village has more Muslim than Hindu voters, and they eagerly hold up their hands in Shervani's support at the end of the rally. Latafat Khan, a farmer with gimlet eyes, who has abandoned his field to come and listen to Shervani, tells this reporter that in his Tarak Paroli village, no candidate is going to be allowed to enter except Saleem Shervani.
"Saleem Shervani ek imaandaar aadmi hai, woh kisi ko lapet main nahin dalta, aisa koi Musalmaan yahan paida hi nahin hua jo inko vote nahin dega (Saleem Shervani is an honourable man, he doesn't do petty politics, there is not a Muslim here who will not vote for him)," says Khan.
A major reason for Shervani's popularity is the Manmohan Singh-led government's decision to waive off farmer's loans, as much as Rs 75,000 crores nationwide, which has had a huge impact on the ground. Travelling through this part of UP, from Pilibhit to Badaiyon, via Bareilly, Rampur and Moradabad, the UPA government's loan waiver commands instant recognition and approval.
Faizganj's farmers are fully aware of the loan waiver details. How, if you have land less than five acres, the total debt will be waived, and how this amount decreases as the size of the land holding increases. Kausar, who own 40 bighas or just over 13 acres, says that one-third of his Rs 1.5 lakh debt was waived, about Rs 35,000.
"This is the best thing this government could have done. A lot of farmers have been rescued from insolvency and a lot of their lands saved. There may not be many farmer suicides here, but a lot of young men who had lost their money had refused to come home, many were found drunk in ditches…Now they are able to return to their families with honour," says Kausar.
As we leave Shervani to return to his campaign, he is, however, more cautious than jubilant. "The actor Dilip Kumar came and campaigned for me in the election when the Babri Masjid-Ram Janmaboomi movement was at its peak. Lakhs of people came out to vote for me, but I lost. Any candidate is considered successful only if he can bring the people out to vote. Inshallah, I will succeed, but my big test is yet to come."
Earlier in the series:
In Rampur, it is the battle of the Begums
Hate speech makes Pilibhit Varun Gandhi country