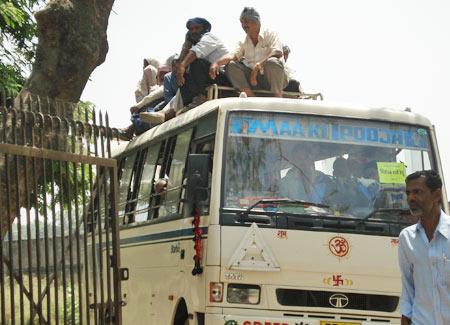 As the first phase of polling takes place on Thursday, a look at the travails of government staff deployed on election duty in Bihar.
They can be seen with their small hand bags, waiting to board buses with labels saying 'On election duty.' If they don't find place inside, they sit on the roof in the sweltering summer heat. In the villages, they make the journey to polling booths on tractors, often crammed to capacity.
Election duty is a tough call for thousands of Bihar's government staff who are deputed to far flung polling booths. They are involved in conducting the vast poll exercise and are sent to their respective booths at least a day in advance.
The staff are drawn from the collectorate, government schools, nationalised banks and government insurance companies. They are mostly men, though women are also deputed for poll duties.
"It is a duty we cannot refuse as government servants, but the facilities and arrangements that we have seen in past elections have not been good," says a middle school teacher.
"I have stayed in school buildings without a roof or toilet and slept on the floor. Sometimes I've been in places that hasn't even had a hand pump for water," says another senior teacher looking back at the several poll assignments he has done in his 25 year-long career.
This time round, in an effort to improve arrangements, election control rooms have been finding out about the drinking water, accommodation, security and other facilities required for staff near polling booths.
Speaking from past experience, the deployed staff also mention the threat of violence from local goons of the area, who look at "managing the votes" and monopolising certain poll booths.
"In the days of the ballot paper, they were instances of them stamping the ballot papers en masse. If there was no police security from the Centre, there was no way you could stand up to the goons. You could lose your life if you wanted a fair election. Things no doubt have improved now due to enhanced police security," says another experienced government staffer.
"Now although rigging has been reduced due to the EVM (electronic voting machine), there have been instances when they try and find ways to tamper with the EVMs."
Another school teacher, from whose family three members have been deputed for poll duty this election, says he is hoping arrangements will be better this time. "We have been treated as animals in elections gone by."
"If you're sent to a sensitive booth, it scares not only you, but your family. My mother has been praying for our safe return."
The staff -- who are paid Rs 1,200 to 1,500 for election duty -- is trained for their assignment before they set out for poll duties, as a result of which work in government departments comes to a virtual halt in the days in the run-up to the polls.