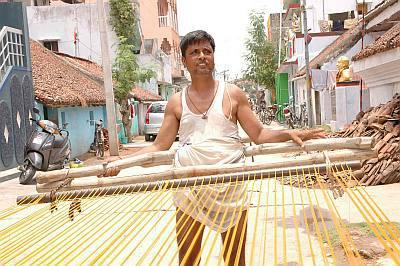 Rediff.com reporters travel across the country, listening to voters's voices.
Sathyan, 52, a weaver in Kancheepuram:

Ours has been a family of weavers for many years. I have been weaving since I was a small boy. I started off assisting my father. My children don't assist me; I don't want them to.
I am happy I sent them to school and then to a polytechnic to have a better life. Our life has been colourless even though we make colourful Kancheepuram pattu (silk).

I am telling you there won't be any weavers in Kancheepuram soon. It will all end with our generation. I continue to weave because I do not know any other work.
There was a time when there were nearly one lakh (100,000) weavers in Kancheepuram. I think there are hardly 35,000 today.

With the price of gold going up, weaving has become expensive but we don't get that much money in return. With just Rs 2,500 to Rs 3,000, what can a family do? How do we eat a proper meal? That is why I made sure that my children went to school so that they would have better jobs.

I have been a supporter of the AIADMK (All India Anna Dravida Munnetra Kazhagam) for a long time. Today I am disillusioned. Why should I continue to support a party when my life is going from bad to worse?
The youngsters of our village tell me to vote for Vijayakanth (leader of the Desiya Murpokku Dravida Kazhagam party) but in my mind, I am not yet ready to experiment with him. So, I may vote again for the AIADMK.

Politics today has nothing to do with development. No party is interested in saving the world famous weavers of Kancheepuram; they only want to play dirty politics. Do you know we were not given flood relief by the councillor saying that we supported Jayalalithaa? This is how everything functions here.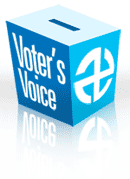 I don't like the Congress government in Delhi. What have they done except raise the price of each and every food item? How can we buy uzhunthu parippu (split black gram) for Rs 50 and rice for Rs 30 and make idli and dosa? And what is the price of cooking oil? Food items have become beyond the reach of poor people like us.


The Re 1 rice given by the DMK government is not fit even for cattle. Nobody, not even the hungriest person, will eat that rice. I hold the Congress responsible for the price rise. I am sure they will not come back to power. I think the BJP will win.

I know one thing, whichever party comes to power, our life will be the same.

Text: Shobha Warrier. Photograph: Sreeram Selvaraj