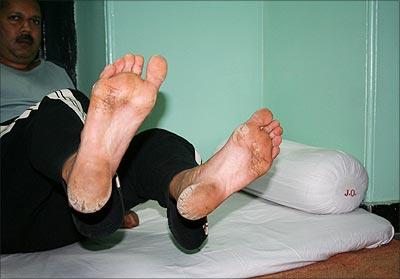 Prasanna Zore and photographer Sanjay Sawant travel to Satara in western Maharashtra and get upclose to a battle royale.
You wonder what has suddenly happened to Udayanraje Bhosale, the 13th descendant of Shivaji Maharaj and Nationalist Congress Party candidate from Satara, as he springs up from his bed, lifts his legs and shows his frayed soles.
He is reacting to allegations from the Shiv Sena that the maharaj -- people of Satara address Udayanraje Bhosale as maharaj -- cannot connect with his praja (people).
"Look at my soles," he said, "how frayed they have become."
After this show Of feet, Udayanraje goes back to sleep. One of his servants, lost in thought, fails to notice that Udayanraje has slept again. The maharaj snaps at him for not noticing it. The servant immediately starts massaging maharaj's sore thighs, calves, hips and ankles. In fact, Udayanraje snaps at his servants every time they stop.
"I have been extensively touring my constituency for the last 10 days. And this is what happens when you visit nine talukas, crisscrossing 150 km length and 100 km breadth of your constituency," he said when asked about his reported disconnect with voters.
Udayanraje is tired after two days of hitting the campaign trail. He speaks with his eyes closed, trying to catch up with his sleep. "I have barely caught the proverbial 40 winks in the last 48 hours," he says with his eyes closed even as his servants massage his legs.
Showing off his knowledge about his constituency he tells us there are some 1,519,708 voters and boasts that he will win with a thumping majority. He is confident of winning 80 per cent of votes in Satara.
"My victory will not just be the biggest in Maharashtra or India, but it will set a world record," he declares, adding that his nearest rival won't even get 10 per cent of his votes.
Purushottam Jadhav, another Maratha leader from Satara's Khandala village, is his rival from the Shiv Sena. According to local news reports and Sena supporters Thursday's contest is headed for a photo finish.
Udayanraje, who had contested as an Independent in 1996, had polled 131,000 votes then.
"I have nurtured this constituency for the last 16 years and people know about my work," he says half asleep.
Image: The 'maharaj' shows his frayed soles